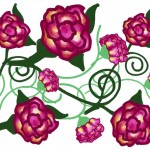 Holy Sweaty Joy—
Ecstatic Spirituality and Sacred Sexuality
A Seven-Week Shamanic Class-by-Phone
Train in the Third Road Faerie ecstatic path.
Claim magic.
Revel in Faerie Faith rituals and mysteries:
* Move past inner blocks to your inherent, sacred sensuality.
* Be a sex god(dess)!
* Imbue daily activities with confident passion.
* Revel in your unique bewitching sexuality.
* Heal your spirit—and empower your goals—through celebration.
* Reside in your core essence, so your authenticity shapes decisions.
* Find your joy.



Click here to enroll.
No prerequisites required; however, adepts find substantial depth.
Fun, ethical classes. I limit enrollment. No impersonal, glib teachings. Receive personal attention.
Holy Sweaty Joy contains core Third Road teachings and is a prerequisite for advanced Third Road Shamanic Training.
Nuts and bolts:
* We meet in teleseminars (group phone meetings). To participate, just dial the phone.
* Class meets seven consecutive Wednesdays, from noon to 1:00 EST, starting Weds January 25.
* Reserve Weds March 15, same time, for a makeup class in case I'm unavailable for one of the planned sessions.
* Total enrollment is $250. You might also pay long-distance charges; it depends on your long-distance plan; charges appear on your phone bill. The event's area code is a U.S. #.
* If you've taken this class before, repeat it at half-price.
* Click here to enroll.
* Upon receipt of payment, your place is reserved, and event phone #, etc., emailed to you. If you need more info, or want to discuss scholarship, trade, or payment plan, call 814-337-2490. No refunds.

A bit about me as a teacher:
* When I teach orally, I'm embedded within a family oral tradition I entered in infancy, learning magic con leche.
* Holy Sweaty Joy is not training you could get from a book.
* I thoughtfully channel curriculums, constructing lessons over time. This tunes us into enormous, subtle powers. Holy Sweaty Joy is not a jumble of undigested white-bread ideas declared, "Voila, genuine Pagan stuff!"

Instead, I committed my lifestyle to developing counterculture material for you.
* I received full-time longterm shamanic training. It was not academic but an experiential training of skill sets. That focused study allowed me into the heart of reality, in trance 24-7, channeling worthwhile lessons, for seven years.
* For decades since, my Gods asked me to trance only part of the day, to ground me. Feet more on the ground than ever, I continue to explore our magical yet earthy cosmos, and channel new material for earth-based mysticism classes, because resting on my laurels would be no fun. I like fun.
Magic is transformative fun that does the job when all else fails. Click here to enroll.