Appointments last an hour and cost $200.
1) Below, tap the date you want for your phone consultation. Then select one of the times that pops up. Times are Pacific Standard.
2) Then scroll past the calendar to fill in your information.
No need to fill in the Comments/Questions field. If you have questions you want to ask during our session, I want to hear them for the first time once we're together, while I'm in trance.
However, if booking a Wisdom Adventure's first session, type "Wisdom Adventure" in the Comments/Questions field.
3) Click Continue to pay securely through PayPal.
4) On the day of your appointment, call me at the time you chose, at the phone number below. Simple!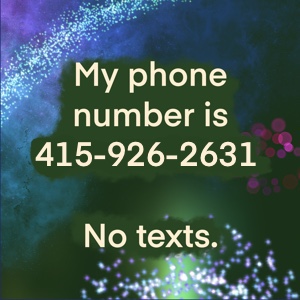 Twenty-four hours' notice for cancellation or rescheduling, without which I cannot refund.
If the appointment calendar doesn't offer a time that works for you, phone me to make an appointment.
Thank you!