Magic Cats: Goddess Bast, Fairy Kitties, and Feline Familiars
"Women and cats will do as they please, and men and dogs should relax and get used to the idea."—Robert A. Heinlein
Superstitions about Cats Being Evil Aren't True
We all know the superstitions. A black cat crossing your path is bad luck. Cats will jump into your infant's crib and steal their breath. Bah humbug.
I wouldn't allow a cat into a crib, in case it accidentally smothers the baby. But a cat has no demonic agenda of stealing breath. Cats are God's creatures.
They are held dear in culture after culture.
Most people know they were worshiped as deities by ancient Egyptians, but respect for felines is worldwide.
For example, there is an Italian myth, found in the book, Aradia, Gospel of the Witches, about a fairy cat who helped the Goddess Diana play a trick on Her brother. This resulted in all of creation coming into being, showing that kitty was one pretty special feline.
There's also the ubiquitous Japanese sculpture of a cat with one paw raised. You've probably seen it in restaurants. That statue brings good luck.
Who Is the Goddess Bast?
Bast is an ancient Egyptian Goddess.
Often portrayed as having a human body and Lioness head, She was considered a fierce protector. Later, images of Her tended to be a house cat, with perhaps a sistrum (a rattle used in ritual) by Her side. The shift of Bast's image from lion to domesticated feline accompanied Her becoming the patron Deity of women, children, and domestic cats.

In the '80s, I saw so many images of the house cat version of Bast having a gold, hoop earring piercing one of Her ears, that I assumed it was traditional. Then, I researched to see if the gold hoop is a modern addition, but couldn't find the answer.
Bast loves perfume. This delights me since beautiful scents are part of my magic. Next time I use scent in a spell, maybe I'll wear my Bast amulet and ask Her to bless the spell. I think perfumes would be a lovely offering to Her, too.
I personally do not believe She became any less fierce or effective a protector when She became domesticated. Humans no longer live wild in caves, but we remain fiercely protective as parents. And One of Her aspects is a loving parent.
Bast as a Fierce Protector Goddess
Bast has a ferocious side, which I turn to for protection.
While making three Bast amulets—photographs of them are throughout the remainder of this post —I was super aware of how well She protects me. Bast sometimes looks like a cute little kitty, but She's fierce.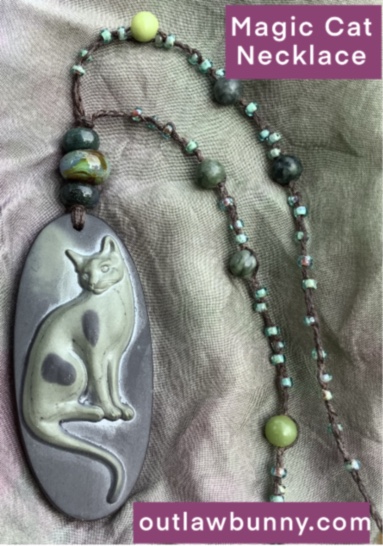 One of the many blessings from the entire feline kingdom is protection. Princess Beast, the cat who lives with me, looks like the sweetest, gentlest little ball of fluff, but she once reared up and attacked the postal carrier with such viciousness that the person scrambled out the door in fear.
When writing this post, I used voice recognition software. It translated my spoken words the feline kingdom as "God the lion kingdom." That wild change cracked me up because my trickster Goddess sometimes guides me through incredibly funny voice recognition mishaps. I feel the particular synchronistic rewrite about cats affirms that in every cat resides mighty lion Deities, both male and female, lending us Their immense power, ferocity, and protection. And that Bast's power is unquestionable, no matter how She is represented.
Bast Also Has a Gentle, Loving, Nurturing Aspect
In my experience (as opposed to any lore I've read), sometimes Bast turns into a cutie, an adorable kitten curled up around me with gentleness and love. Except that, being a God, the gentleness and love with which She surrounds me is immense beyond measure.
Words can't convey what I experience when I visualize the universe being run by a Deity Who is as sweet, gentle, and softly furry as a kitten. All fear of any God or of a hostile universe leaves me. It is as if Princess Beast, who curls up on my lap, purring, affectionately licking my hand, has a larger version—an immense version that is God, curled up around me, and governing all things so lovingly that my material and spiritual needs are well taken care of.

That visualization is not the only time I've turned to Bast for help when I forgot that my Gods are loving, kind, and sweet, instead of judgmental, uncaring, and disdainful. Here's another time:
I try to not chastise myself for my oh-so-human feelings of anger, but one day, I was actually hating the part of me that feels anger. I don't want self-hate; it serves no good purpose. Hate for myself is not healing. In fact, self-hate hinders change.
After making the Bast talismans, which invoke Her into your life, She showed love for the part of me that's angry. Her love transformed both my hate and anger. A God condemning me for my anger would not have helped me.
Another time, I was hot with anger at someone who'd seriously messed with me. Bast not only wrapped Herself tenderly and lovingly around me, so that I did not hate myself for my anger, She also told me I needn't be pulled down by fear of my anger or of the person messing with me. That message helped me face my anger, be empowered by it, and release it, all of which in turn allowed me to take appropriate steps, on both the magical and mundane planes, to protect myself.
She also made it clear She would show Her other side should that person try to mess with me again. Picture a guest walking in my door, and Princess Beast instantaneously going from cuddling with me to leaping off my lap in order to prepare to slash out fiercely at the guest, should they be dangerous.
Witches and Cat Familiars
Witches keep cats or other animals as familiars (magical helpers).
I am such a cliche witch: I adore cats. Whether it's the Goddess Bast, the fairy kitty in the aforementioned creation myth, or the black and white feline who's been meowing at my door recently, then scrambling off as soon as I appear, I cannot resist a cat.
I find all cats to be Fey, and haven't been without a cat familiar by my side for decades.
Familiars Are All So Different
Every cat has their own personality, magic, and lessons to give us. Every one of my familiars has come to me right when I needed its particular powers.
Teenie, my familiar of 17 years, may she rest in peace, was peaceful, loving, and noble. She tried to teach me these virtues. Ganesh, a high energy fellow who lived with us for a few years, embodied and taught me lessons in joyful chaos. Princess Beast is a comedienne, an utter Holy Fool who helps me be lighthearted and enjoy life more.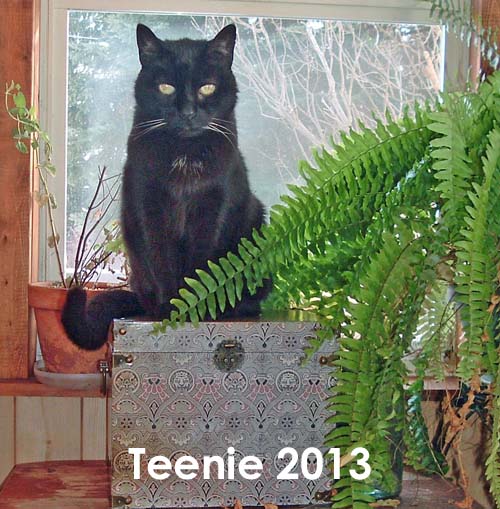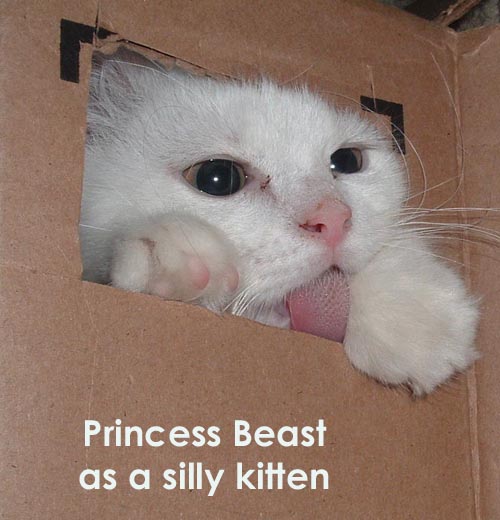 Princess Beast constantly offers photo-ops, whereas Teenie usually hated having her picture taken. She tended to immediately change whatever darling, gorgeous, or otherwise noteworthy position she was in, if I grabbed the camera to capture the moment. She taught me to be in the moment instead of losing an experience by trying to document it.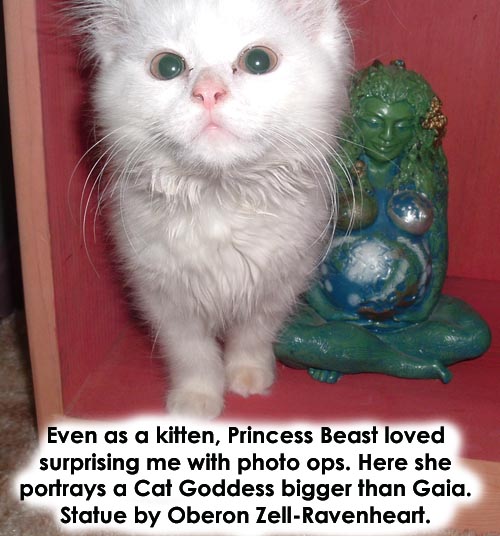 Bast Talismans / Kitty Faerie Charms
I made three talismans that invoke blessings from the Cat Goddess Bast and Faerie cats.
I make charms my own way. So I'm not suggesting you need to make them the way I describe below. I just like sharing my magical process.
I imbued the talismans with the feline magical energies described in this post, as well as the power to grant blessings you personally might expect from the sacred feline realms.
Two of the charms are necklaces. One is for me. (Mine is the one with the paler cord.) A friend will probably be buying the other one.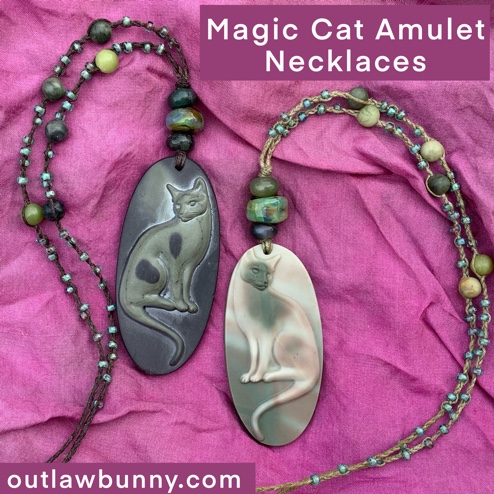 Here is what I strung on both necklaces:
I am 90% sure each pendant is carved from a single piece of ribbon jasper. Ditto the cat in the wall hanging, later in this post. I love how different colors emerge in a ribbon jasper carving, especially when a skilled artisan takes advantage of it.
I find ribbon jasper exudes happiness and contentment. This was not taught to me by a human but directly by the stone itself. Ditto its happy, grounded energy that helps keep my feet on the ground when I'm walking between the stars.
The carvings remind me of a Victorian cameo. I'm an old hippie who loves Victoriana, so it is inevitable some of my designs end up BoHo meets Queen Victoria.
Immediately above each pendant are three large beads. The smaller two are moss agate, a stone I find wondrously Fey; a stone that appears so mosslike seems a magical marvel to me. That Fey energy is a good match for these talismans. Could anything more Fey than a cat? They run into the room when you're doing a ritual because they want to join in. They stalk invisible beings. And many a strega (traditional Italian witch) honors the fairy cat who figures prominently in the aforementioned creation myth.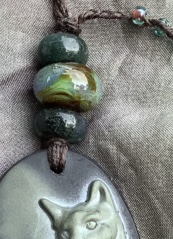 The largest of the three beads is a focal lampwork bead. I go to great lengths to acquire items that help make each of my talismans shines with both its own unique beauty and singular magic. I buy beads carefully, taking my time. The lampwork beads in these two talismans are two of 18 unique beads I commissioned from Jill at https://www.wyomingsilvers.net. (I'm not suggesting Jill is Pagan. I've no idea. I found her shop because I love lamp work glass.) I've acquired a number of pieces by this talented artisan.
Woven up each side of both necklaces are designer seed beads. They have a mottled appearance that goes perfectly with all the natural stone in the necklaces.
Woven with the seed beads are three larger, round beads on each side. They were destash so I don't know what they are. I suspect they're serpentine because their surface has the "waxiness" of that stone. I'm not a gem-identification expert.
Serpentine is one of my favorite stones.
Or perhaps the round beads are not serpentine but the same stone as the cat cameos: I carefully sorted through a few hundred of those round stones—I love fastidiously creating talismans—to find ones that best match the carving, and I was able to match some well enough that it made me wonder if they were the same stone.
Regardless, these beads have a lovely, smooth ancient energy—gentle and peaceful.
I'm really happy my friend and I will have sister necklaces.
I make one of a kind charms. Sometimes, when creating one to sell or gift, I make a somewhat similar one for myself while I'm at it. I don't make them identical, mindlessly going about the work. Quite the opposite. For example, I sorted through my moss agate and lampwork beads to find the ones best suited to each pendant.
Sometimes my Gods make it quite clear I'm not to create the similar piece for myself: e.g., I won't be able to make the one for me work aesthetically, or its cord gets hopelessly tangled.
The Third Bast / Fairy Cat Talisman Is a Wall Hanging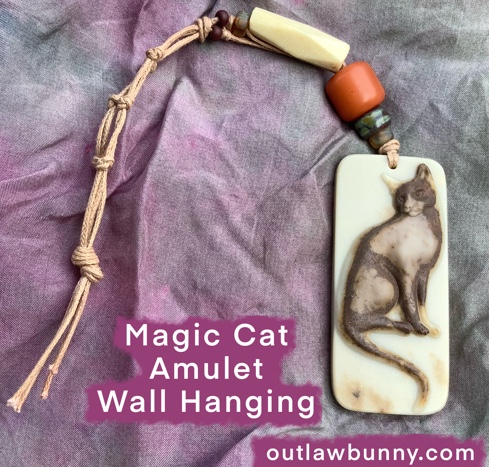 It is strung on waxed cotton cords. The large orangey barrel-shaped bead is copal. I seem to remember amber being sacred in ancient Egypt. I didn't have any, and copal seemed a perfect substitute. The large, long faceted piece is probably bone. Bone represents the eternal. The idea of a cat's nine lives represents the same thing to me.
Here's a close-up of the two wee designer beads I selected to put right above the kitty. Tiny bits of loveliness hold magic:

When knotting the cords in this amulet, I tied in blessings. When adding beads, I added blessings.

Crafting amulets is an important part of my magic and witch spirituality. To read a bit more about my talisman-making journey, check this out: https://stardrenched.com/2018/08/31/making-talismans/
I don't get a chance to create talismans to sell very often right now. When I do, my newsletter subscribers often will get first shot at purchasing them. Click below to subscribe.