Vasilisa the Beautiful's Doll:
A Magic Charm to Fix Problems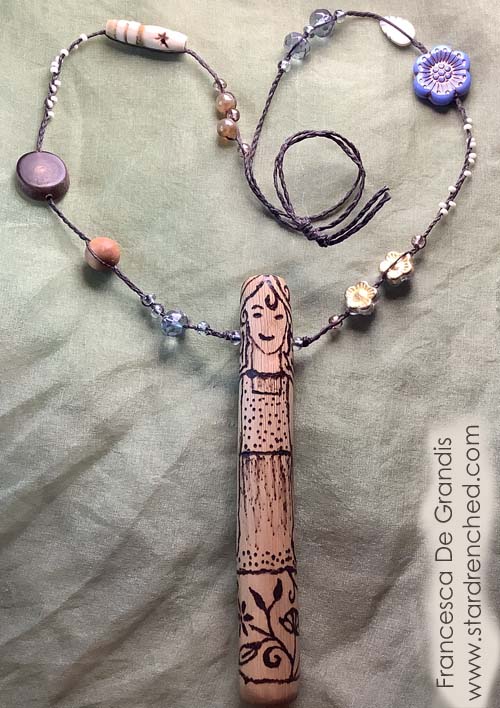 What is Vasilisa's Doll?
In the Russian fairytale, Vasilisa the Beautiful, Vasilisa's Mother is dying. On her deathbed, she gives a wooden doll to Vasilisa, explaining that when Vasilisa needs help, she is to feed the doll and ask for help, and her wish will be granted.
An Amulet for a Hero
Vasilisa's story, which is one of overcoming trials, implies her doll is a talisman for heroes—individuals taking up a challenge. My gut concurs. By hero and challenge, I simply mean people who take responsibility for their life. Life's journey is often a heroic quest.
If I take steps toward my goals, try to find steps, or seek the willingness to take them, Vasilisa's doll will add her efforts to mine.
By contrast, asking the doll to do that which I can do for myself would be a waste of spell crafting. It doesn't work. It would also amount to not taking responsibility for my life.
Ancestors, the Goddess, and Poppet Magic
I adore magic dolls. Whether you call them spirit dolls, poppets, totem dolls, totems, or guardian angel dolls, I find them tremendously charming, in both the magical and whimsical sense.
I believe many entities help wishes made to Vasilisa's doll come true. Thus the doll offers powerful enchantments:
1. Given that Vasilisa's Mother, on her deathbed, gave Vasilisa a doll to help overcome life's challenges, I think the doll stands in for the mother. Requests to the doll reach the mother and other female ancestors.
2. I think the doll is a gatekeeper who carries wishes to the Magna Mater, Great Mother of all, and to all the wisher's ancestors.
3. I intuit the doll is a magical being unto herself who grants wishes.
How to take Care of a Poppet

A friend spoke to me about how seriously she takes being a poppet's caretaker. She believes you don't just tuck it in a drawer and forget about it. I have similar feelings: occasionally, poppets need company, as well as a tablespoon each of food and beverage.
It's a nice idea to keep your dolls together, if you have more than one, so they can keep each other company.
I keep a few of my dolls in my bed. For one thing, it's an easy way for them to have company since they're hanging out with me while I'm sleeping. Sometimes I spend a minute with them before falling asleep.
A tablespoon of food and a tablespoon of beverage is probably plenty for all your poppets combined, a few times a year.
Having said all that, I admit to having neglected my totem dolls for long periods. They forgive me and continue to help me.
… Ooh, just had an idea. I tend to make offerings to my Gods, ancestors, and other spirit friends all at once, by putting out a wee bit of food and drink for them. I can include my poppet spirits in that group. That's a way I can easily take care of them more often.
Making a Vasilisa doll
When a friend said she wanted a Vasilisa doll, I became obsessed with the idea and, after a lot of fun brainstorming, made two Vasilisa dolls. The photos in this post show the dolls.
I woodburned the design for the dolls. The pyrography (woodburning) goes all the way around the doll, so here are videos that show all sides.
The necklace with the doll as a pendant is for me:
The other doll—which can be a wall hanging—is for a friend:
The dolls are made from the wood of wild roses, which I harvested from my property in 2018, late summer or early fall. Then I let it cure for a year or two.
This is the wood after I harvested and cured it:


A lot of the wood was not usable. My experience is that when I cure wood, the ends tend to split so have to be cut away. The same might go for other portions of the wood. So, from those pieces, I managed to get only two small sticks: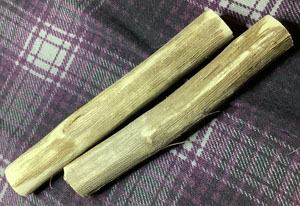 The Hero's Sacrifices
I consider cast away parts of the wood to be sacrifices to the Gods. That makes those two remaining sticks precious magic—the parts Gods have deemed suitable for me to craft.
In crafting, much might get tossed aside, all of it sacrifice in the name of the Muse, Who for me is the great Mother Goddess, Creator of All. Sometimes, I have a huge gorgeous stick that I have to throw out after curing it, none of it usable.
Vasilisa's story is one of a hero overcoming challenges. Sacrifices are always made on the hero's journey.

I love these dolls. The one that is a wall hanging was my first pyrography after a year away, and the lines are not as well executed and smooth as I would've liked. It was also the first time executing the design I'd created; the arms don't quite match. While burning one arm, I couldn't see the arm on the other side to check it. I thought about sanding the arms off and starting all over again, but their particular positions meant sanding would likely ruin the piece.
Ends up the arms of my friend who wants the doll are very different lengths. Wow. … Regardless, I reduced the wall hanging's price because of the doll's flaws. … I love her for her flaws. I love these dolls for many reasons, among them their spiritual beauty, winsomeness, huge spirits, and pretty ways. I'm delighted by my new friends.
Working on the first doll got me up to speed with my pyrography skills again and showed me how to refine my doll template. I'd spent weeks designing a template I can adapt for each doll. I corrected the template so it was easier to make the arms match next time. The time spent creating the original template and then spent changing it was not waste but sacrifice.
I restrung this wall hanging five times because I didn't like the way it hung. I changed the beads a few times, finally ending up with no beads at all and a simple wax cotton cord, instead of woven cording. Sometimes it takes a lot of trial and error to see simplicity is the best design.
I rewove my necklace after finishing it, coming up with a second—completely new—design.
Repeated efforts until I find the right way are not wasted but are sacrifices that empower the hero's journey. My dolls appreciate my effort and are all the more magical for it.
The videos of the dolls show them before they were restrung.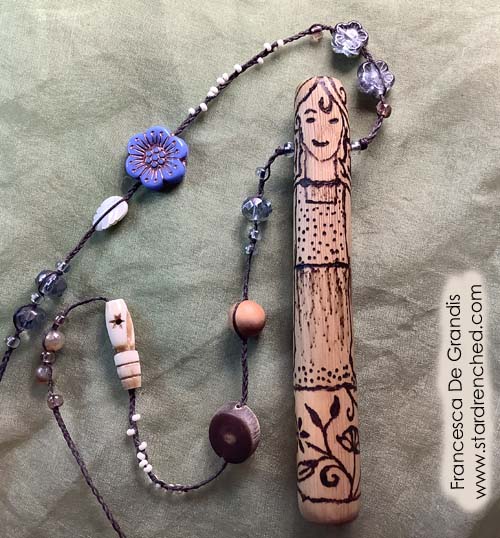 More about the Vasilisa's Dolls I Made
It was wonderfully startling when, before I even finished sanding, I saw faces in the wood—spirits who were either in the wood or wanted to inhabit it. The faces were not appearing on the material plan, e.g., delineated by the grain of the wood. I'm thrilled by these dolls.
My necklace has a round Yew wood bead. It symbolizes the sacrifices along the journey. Sacrifices don't have to be miserable. They can simply, for example, be part of the exploratory aspect of the creative process.
There is also a mother of pearl leaf, which I added as a symbol of the forests that house many a fairytale I love. The long bead, if memory serves, is bone. Bone represents eternal truths. There's also a disc that is likely horn, to honor the wild, horned Goddess and God of the forest.
I wanted to add a bead from my mom's jewelry, but it didn't work out.
As always, I did lengthy ritual to bless these poppets with huge power.
A Surprise with the Vasilisa's Dolls
After making both dolls, I told them, "Thank you for coming to me. I'm grateful one of you is my doll, to whom I can make a wish when I have a problem, and you will get me whatever I wish for. I'm grateful the other doll can do the same for someone else."
They answered, without the confidence I'd expected, "Well, we'll try."
Surprised, I said to them, "Thank you. But you don't sound very confident."
They explained, "Francesca, we're just sticks."
I laughed, then said, "All the powers of the universe reside in every object in the universe. You have all power."
They said, "Oh, yes! We'd forgotten. Thanks for reminding us."
A few days later, they reminded me that I too have all power within. That doesn't mean I should try to do everything on my own. One of the powers of the universe is the power of co-creation.
I should add that my wishes are not always granted, nor should they be. Sometimes the Gods have better plans for me.
Do You Want a Vasilisa's Doll?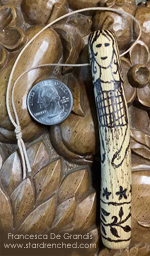 If you'd like me to make a Vasilisa's doll for you or a loved one, I currently have the right size wood. At the time of this post, these are your costs:
A doll wall hanging is usually $98. There are some considerations, e.g., a larger doll might cost more. A necklace is usually $130. Shipping is additional and is $9 to a U.S. address.
Each doll is one of a kind—I channel woodburning details, then select beads that enhance it, magically and aesthetically, though there might not be beads on the wall hanging.
Email me or comment below if you're interested. If you request a doll and then don't like what I've made, no obligation to buy. I'm sure I can sell it elsewhere. The doll will go to their right home.