Francesca De Grandis and Anne Newkirk Niven discuss Pagan publishing, spirituality that gets you through hard times, building Pagan community, and ethics.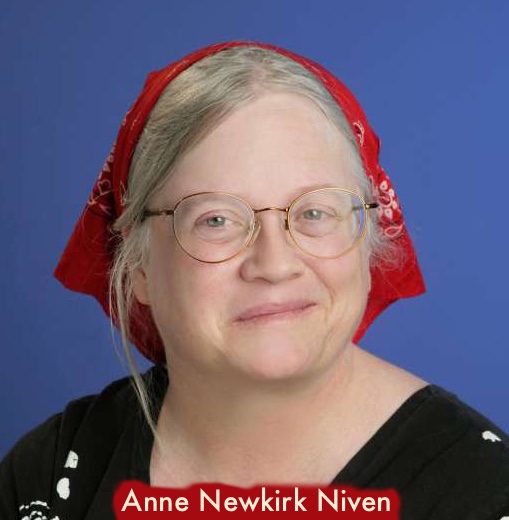 Anne Newkirk Niven is the editor and publisher of Witches&Pagans magazine and SageWoman magazine. She has been a Pagan publisher since 1988, and lives with her family in Forest Grove, OR.
Francesca De Grandis, bestselling author of Be a Goddess!, is a fairy witch. She offers long-distance classes, shamanic counseling, and healings. Her Goddess spirituality embraces practical magic spells.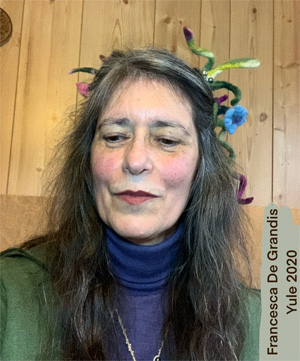 Francesca De Grandis: Anne has maintained high ethical and professional standards over the decades I've known her. That, along with her devotion to community service, make her a precious spiritual force. So I felt impelled to interview her. Anne, how have your goals as a priestess-publisher evolved over the years?
Anne Newkirk Niven: My goals as a priestess-publisher remain the same over 30+ years in this profession, but how I implement them has changed over the years.
Those goals are (in order of importance): foster and promote Pagan-centric community; provide information of use to Pagans, witches, Wiccans, polytheists and Goddess-centric folks; not go broke (personally) in the process.
What's changed is an original emphasis on ink-on-paper magazine publishing, then a 5 year stint with an emphasis on social media, and now, a return to magazine publishing. Social media was a bit of a sugar high: lots of fast, short term growth, but no long-term satisfaction for me as a publisher.
Francesca De Grandis (FDG): Please tell me something in your specific, personal Pagan spirituality that gets you through hard times.
Anne Newkirk Niven (ANN): My personal Pagan spirituality is very eclectic, but nourishing. The one ritual that gets me through is saying grace with my family once a day (some days that's brunch, other days it is dinner, depending on schedules) before meals. Our grace is idiosyncratic, was created by me, then added to be our oldest son when he was about seven, then amended again by adding a Japanese phrase taught to us by an exchange student from Japan. It roots our days in each other, as well as in gratitude for what we are given.
FDG: I've known you a long time and have seen you continue to strive toward a high moral standard. What helps you keep working toward your ideals?
ANN: Honestly, that's a hard question. What else would I do? I guess that I really don't think I'm doing anything extraordinary. I was raised Christian, but in a liberal church (the type that's almost extinct these days, sadly) and I internalized the concept of self-sacrifice, honor, and compassion. That didn't change when I became Pagan. So, it's pretty much key to my self-image to do my best to uphold these ideals. If I did otherwise, I wouldn't recognize myself.
FDG: Is there a Deity who has substantially supported you in your community work or personal life? If so, can you explain Their particular powers and how those powers have helped you?
ANN: I seem to be something of a serial monotheist: a series of gods (only one, actually) and goddesses have influenced my life, but seemingly for specific purposes. Usually a deity speaks to me, asks me to do something, and then when I've accomplished that goal, bids me farewell. First was Jesus (who I call "J.C.") who I was very devoted to as a tween and in my teens; then a large number of goddesses in my twenties and thirties, and then a slow parade since then. I've had relationships with, including Mary, Kuan Yin, Oshun, and Frigga, among others. Although I have felt upheld by each of them, I wouldn't say I relate to their powers or attributes, more to their personalities. Lately I think I've been called by Sigyn, but I haven't quite figured out that relationship yet.
FDG: Is there anything else on your mind you want to share?
ANN: I'd like to share the idea of being kind to one another. I'm acutely aware that, as an interlocking set of communities, we Pagans, Witches, Wiccans, Polytheists, and Heathens (and more and allies) are a fractious bunch. But I would like to ask us all to elevate the virtues of compassion, kind-heartedness, steadfastness, and empathy. This is a very challenging time to be alive, but the gods and goddesses called us to be here, and I believe it was to share their love with the whole world, not through evangelism or bringing people to a specific path, but through living as if we gave a care about others. That's my guiding light.
FDG: I love the beauty and honesty of your answers and cherish your closing remark. You are my spiritual sister, Anne. Thanks so much for talking to my website visitors.
ANN: I love you right back, sister!
For anouncements of upcoming fairy shamanism classes, freebies, and other sparkly yummies, click the newsletter link below.