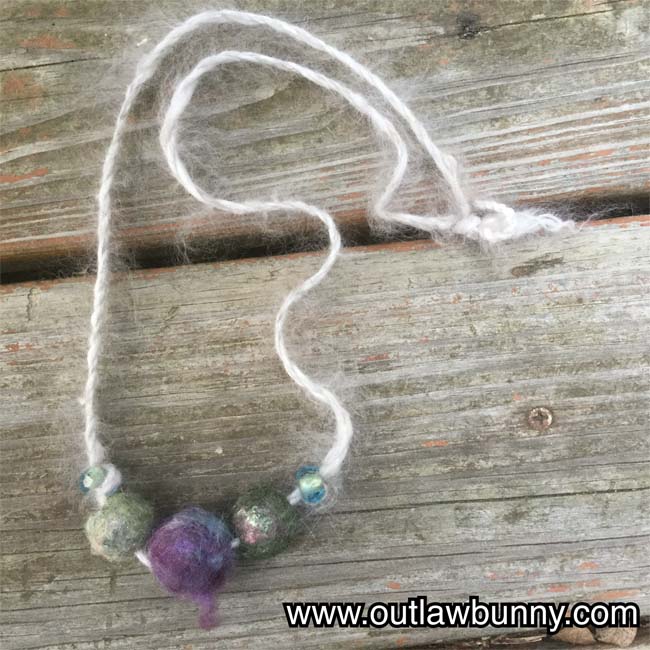 This morning, I intuitively chose a talisman to wear, without knowing why it was the right one for the day ahead. A while back, I'd made the talisman out of Angora fibers (otherwise known as rabbit fur), Cormo, which is one of the softest wools in existence, some other fibers, and two glass beads. (In case it's hard to see in the photo: the three center beads are ones I made out of fibers, and on each side of them is a glass bead. If memory serves, I spun the cord entirely out of bunny fur.)
Later today, while on my physical therapy walk through the woods, I meditated on what the talisman had for me today. The first thing that came to me was the gentleness of rabbits.
The second thing that came was a new chant Rabbit sent me. I really enjoyed using it, but apparently it was meant just for the moment because, when I arrived home from the forest, I couldn't remember the exact chant. What I did manage to hear from Rabbit, once I had my iPad to type on, was another, really solid version to use henceforth.
Like the original, this version is silly, fun, and singsong. I believe these traits feed magic.
Instructions: recite the chant while you're walking. Or if you're in a wheelchair, roll along. If you're laid up in bed, perhaps you can move a finger or some part of your body a little bit in rhythm to the chant. If not, no problem, your spirit will automatically move to the rhythm of the chant.
Don't rush the words or shout them. Just say them in a natural, easy-going manner, at a natural pace, enjoying the fun of singsong.
If it feels comfortable and unaffected, you might want to slow down the three lines that repeat at the end, but if so, probably slow down just the tiniest bit. And for those lines, don't suddenly get loud, majestic, ceremonial, or the like. Still just have natural fun.
The ritual consists of saying the chant once or saying it three times (the repetitions happening right then and there, as opposed to spacing them out over time).
After you've finished the recitation, you can consider the rite finished or repeat the rite once a day for a week, whichever feels right. Then return to it again later if you need another prosperity boost.
You don't need to add any special magical techniques for this chant to work, just the simple instructions above. However, if you personally feel the need to add certain techniques, do so. The same goes for protection: if you feel like this rite should be done in a magically protected space, do so. Myself, I set up a spell that always has me in protection, wherever I go. Someone else might not need that.
The chant mentions the World Tree. "The World Tree" means the Divine as it manifests in everything in existence. Well, it means a lot more than that. However, to do the chant, the simple definition here is sufficient. I should tell you, though, the definition I provide here is not one everyone uses. The World Tree is a deeply esoteric reality, which means definitions widely vary.
Rabbit Magic: an Easy Prosperity Spell
Hippity hoppety, hippity hop,
abundance comes and never stops
coming to me.
La la lee,
money and goodness flow to me.
Hippity hop, it's easy to leap
over road blocks to what I need.
Hippity hippity hippity hop,
gently gently as I walk,
all I need will roll in now.
The World Tree holds me in its boughs.
Hippity hippity lala lee.
As I will so mote it be.
As I will so mote it be.
As I will so mote it be.
One nice thing about this rite is that, after I did it once a day for a week, little snippets of its words—or just its cadence without its words—would occasionally sing in my head. That was lovely because it cheered me up and made me feel optimistic about getting what I needed. For one thing, it helped me feel the Tree of Life (Tree of Life is another term for World Tree) was taking care of me—that I was part of the magic I believe pervades the entire universe. That doesn't need to happen to you for the spell to work, but if it does, it's a wonderful experience and a good sign.