Surrender means moment by moment trying to discern and live according to God's will. Always asking. Doing what we think God wants of us right this minute, then the next. Okay, that is an ideal, impossible to achieve. But it is possible to strive for. (If you need to make substitutions where I have written 'God," I hope you do. For example: Goddess, or the Divine. I'll also randomly rotate such words and phrase, as well as Divine genders.)
Will is a fancy word for desire. God's desire is the current of events that She creates. (She is God, after all.) This current is a river of love and grace that carries me safely along. I am held in safety, beauty, and joy. I am transported toward yet more safety, beauty, and joy.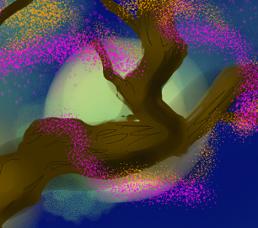 My God is kind. Trying to live according to the will of the Divine does not require suppressing the self. It means creating full self—including a healthy ego—while aligning that fullness of being with action after action based on surrender to His often gorgeous—and other times infuriating—desires. 
Walking any spiritual path—including that of an ecstatic—without surrender leads to spiritual addiction. There are many forms of spiritual addiction. (One is fundamentalism, and both pagan and New Age fundamentalism do exist.) Here, I want to focus on addiction to a false ego that masks tremendous fear. It is a spiritual epidemic. I have observed it in people in all walks of life, including major spiritual leaders whose lives it destroyed. 
One reason for this fear is that, no matter how competent one is on the mundane and mystical levels, and no matter how important it is to do everything one can to protect oneself amidst life's myriad dangers, one's efforts are a drop in the bucket. The world offers endless treasures, but it also holds constant threats, some of them terrifying.
However, the Divine can keep us safe, above all other protections. And, again, surrender to the Divine allows It to shelter us. Surrender puts us in the aforementioned flow of safety. As I said when kicking off these musings, attempting surrender moment by moment—living step by step as I walk along a path Divinity paves—makes life fuller, easier, and protected. 
Otherwise, the aforementioned false ego—and its underlying fear—gets stronger and stronger, compensating for a sense of helplessness in our huge, scary cosmos.
The false ego insists you must cheat and perpetrate other wrongs to survive in such a dangerous world, that you have no choice. The false ego prompts unnecessary attacks on people, insisting this is needed to stay safe. Those are only a few problems the false ego causes. But the net result is the same of all addictions. Life feels scarier and scarier as you become more and more contracted with fear. So you lose trust even in those most loyal to you, and you make worse and worse attacks until you are alone, terrified, and deluded.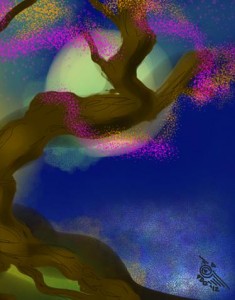 I've oversimplified matters. For example, how does one know God's will? (Answer: I can't! I do my absolute best, but it is still a human endeavor, thus light years from perfect.) And how does one avoid becoming a pompous fool who thinks he knows better than everyone else? (Answer: The Divine might instruct us through friends who love us enough to tell us we're being arrogant.) Does the idea that spiritual surrender creates protection imply that, if I get mugged, it is because I'm spiritually lacking? (Answer: No way would I blame anyone for tragedies that befall them. Life is constant paradox.) Even these three answers are oversimplifications. But I've touched on issues herein in hopes of nurturing dialog. Please discuss your thoughts with friends.
And, equally important, what does the Divine ask of you now, what is asked of you right this minute, now that you are done reading?
*******
Francesca De Grandis AKA Outlaw Bunny is middle management for Chaos Gods. A one-woman interfaith community, Francesca is a student of Taoism, hangs out with Goddesses, visits Christ, and has been told she's Buddhist. She struggles spiritually because she's a brat, but does her best. Her latest book, Share My Insanity: It Improves Everything, is trickster spirituality and divine madness.