Ancestor Work:
Mom's Holiday China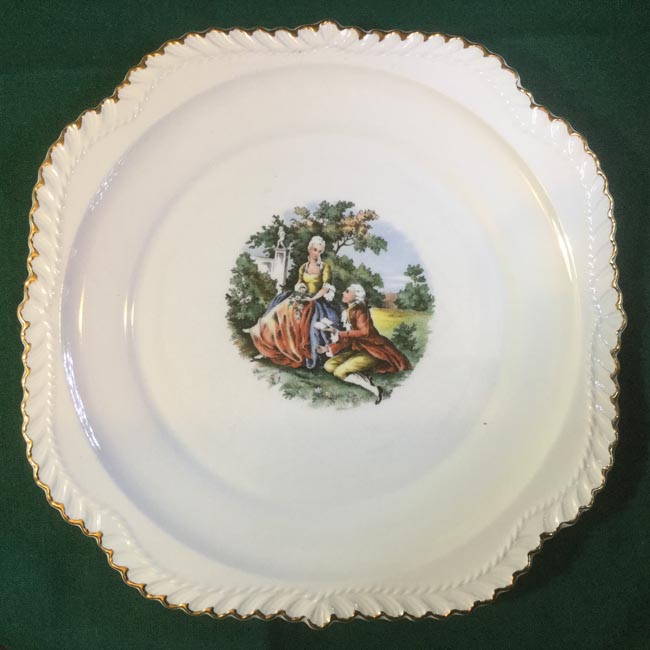 The above plate is in the pattern with which my mom set holiday tables during my childhood. I forget our day-to-day pattern, but this one stuck in my mind.
As a child, I thought the dish pattern was tacky, but it remained a nice memory. Mom acquired complete settings for at least 10 people, obtaining the pieces one at a time by going to the movies. I love that Toni went to such lengths to add beauty to our home, not letting lack of income thwart her.
One of my brothers got the dish set when Toni died. I would not have used it.
But recently, I searched online until I found one dish in the pattern—just one in her memory and in reminiscence of her passion, amazing kitchen skills, and elegance—elegance I now see in this plate to some degree, and that showed immensely elsewhere.
Rest in peace, Toni. You were a model of exuberance, devotion, otherworldly flight, and competence both culinary and professional. You were also a true lady, in every positive way I use the word lady, including how the Goddess infused your spirit and your magic. Thank you for being a living example for all parts of my day, including my kitchen witchery.
… Later: The more I use the plate, the more beauty, elegance, and grace I find in it. I don't know if that is objective. E.g., perhaps the grace I notice is a projection of my mother's gracious maneuvering amidst the immense challenges of her life. She found reason to laugh and give, no matter what.
In any case, to snap the above photo, I had to wash the dish, since I'd eaten lunch from it. Handling the dish with soapy hands, I experienced more of its elegance, this time on a tactile level; the china felt so nicely made despite being a movie giveaway. I wonder if my mother loved handling it.