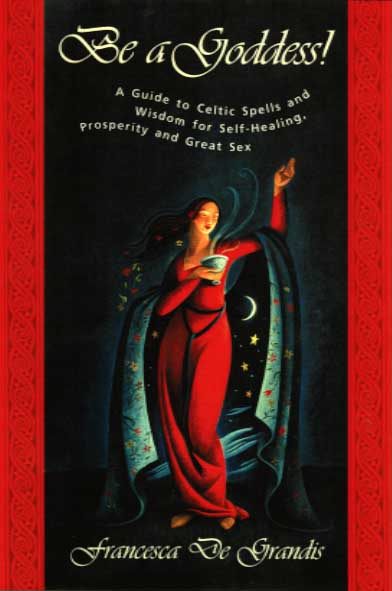 I'm going to lead a group
through the training in my book
Be a Goddess!:
a Guide to Celtic Spells and Wisdom
for Self-Healing, Prosperity, and Great Sex.
For details, keep reading.
Be a Goddess! is a down-to-earth training in Celtic shamanism, showing you how to:
* Cast spells for abundance, a happy home, and romance.
* Love your body, be cleansed in spirit, and increase wisdom.
* Enjoy more passion, sensuality, and individuality.
* Use the simple, potent magic of the Faerie folk.
* And get just about anything else you want by using The Spell Itself.
The book is written for independent use, so lots of folks completed this bestseller on their own. But for folks who prefer a more personal approach, I'll lead a group through the lessons, via group-phone-calls (aka teleseminars). During meetings, you:
* get whatever particular support you need to do the book's lessons
* have your questions answered
* and otherwise receive pivotal camaraderie and motivation.
Just dial the phone to participate.
Plus, I'm available one-on-one by phone, for up to 45 minutes total, during the course of our lessons, if you have questions, your momentum doing the lessons falters, or you have other concerns.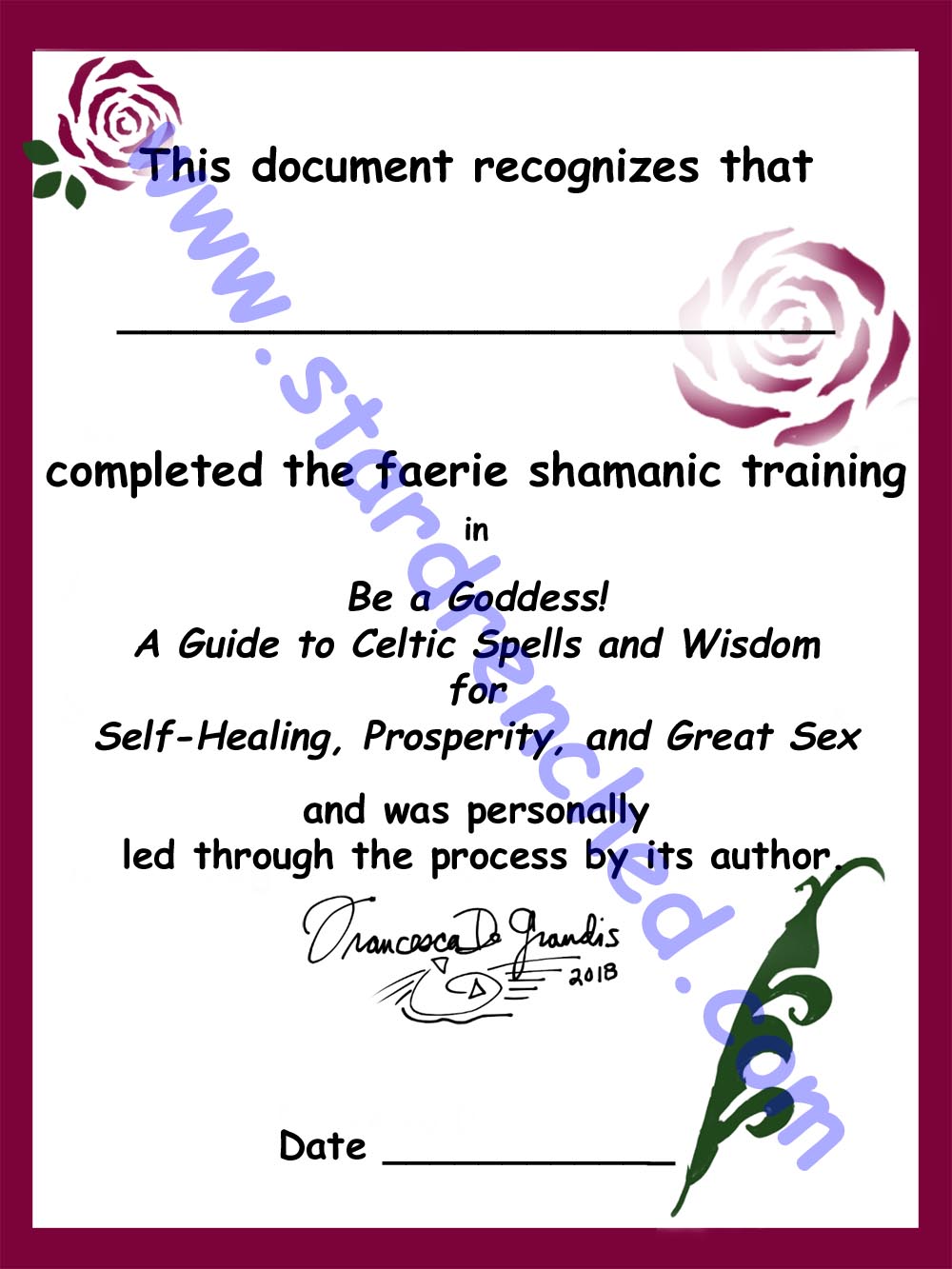 Receive the above certificate of completion by email. Your certificate will not have a watermark on it. Fill in your name and the date to take pride in yourself.
Super-special free bonus: an exclusive online forum. Between phone meetings, benefit from a private space where students can receive support from each other, share victories, and ask each other questions. This is solely for students, no "teacher looking over your shoulder." I will monitor only for unkind remarks; you deserve a safe space.
The group meets every other Sunday by phone, starting April 8, from 4:00 to 5:00 PM EST, for a total of eight meetings. Just dial the phone to participate. Reserve Sunday July 22, same time, for a makeup session, in case I'm unavailable for one of the planned meetings.
Total cost: $250. Your particular carrier may charge you for the calls. Scroll down to enroll: enter your phone number and pay securely with PayPal.
Upon receipt of payment, your place is reserved. You receive event phone #, etc., by email. If you need more info, or want to discuss scholarship, trade, or payment plan, call me at 814-337-249O. No refunds.
There are no prerequisites. You simply need the book with you at all meetings.
I probably won't offer this event again for five years.
This Faerie magic book is considered an irreplaceable classic. Though released in 1998 to a niche genre, present-day sales outstrip those of many recently published mainstream titles. I had no budget to promote this book. I worked eight years writing it because I wanted it to live on long after me, as a step-by-step program that could guide unusual individuals toward profound personal transformation and inner wisdom.
Our process during meetings will be based in my book and, as such, will not be part of Third Road's oral tradition.