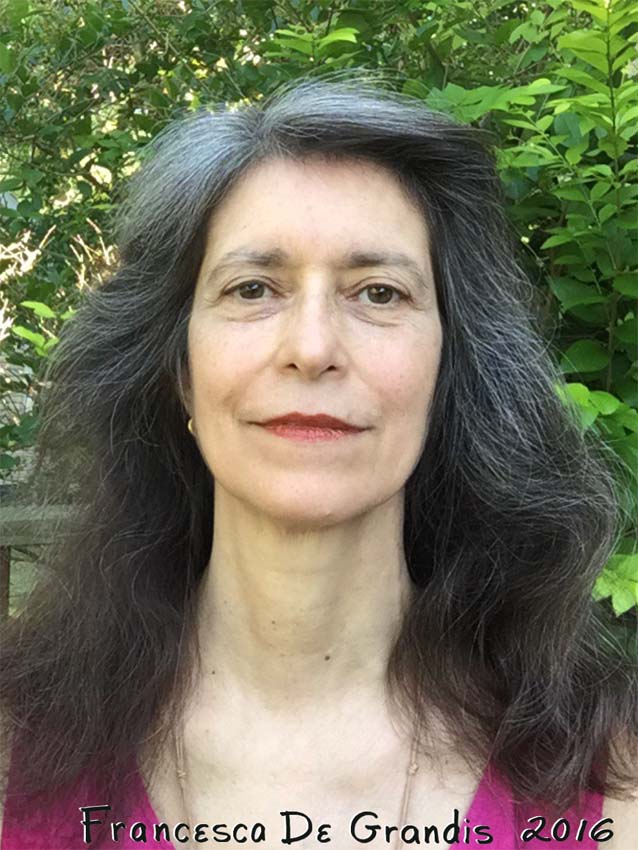 I could no longer stand the hate I felt for people who hate.
The night of July 5, 2018, I had the strangest dream. Instead of living in my sweet house, I was living in a large apartment, and Donald Trump was my flatmate. We weren't lovers, we were buddies. The degree to which I have loathed the 45th and everything he stands for makes the dream quite strange, given that he and I got along quite well in the dream.
In the dream, we were talking, and then I accidentally bumped up against him, and it seemed like his little penis was hard, but he didn't even blink. Of course, Trump would not blink because he is a sly, awful man. He'd leave me in that oh-so-awful-and-prevalent feminine quandary of endlessly debating with oneself, wondering things like "Am I just imagining things …?" But I brushed his behavior off because neither his slyness nor anything else about him was bothering me. Remarkable dream for me!
Then I had to go take a shower (not because I'd bumped against him, but just because it was time to take a shower) and, when I got out of the shower, he had left. I think he might've been going to the White House, but I can't remember that part of the dream clearly.
An hour or two later he died.
I told someone that Trump and I were roommates and that I'd seen him right before his death. The man to whom I was speaking said that he really wanted to interview me on his radio show. I agreed.
In the dream, I did not have the media savvy that I actually have. To show the contrast between that dreamtime self and what I'm actually like in "real life:" in my waking hours, I've hosted a show on ABC radio in San Francisco and scripted a TV segment that Barbara Walters produced. Nevertheless, in dreamtime, I didn't realize that mentioning living with Trump and seeing him shortly before his death would result in nationwide media exposure. Not that, in the dream, I was afraid of being accused of his death. I just was unaware that stating my experiences with Trump would garner major media interest.
I showed up for the radio show. The man who'd asked to interview me was not there. Instead, his female assistant was present. She was new at radio interviews, but she was doing okay getting set up for one. I didn't know if the show was just for a little local radio station or was syndicated. Then, before the interview started, the dream ended, or I woke up, or I simply don't remember the rest of the dream.
Recently, I'd come to a point in my life where I just couldn't stand the hate I felt for people who hate. That anger was hurting me badly. Long story short, it was not anger that I took out on anybody else; it just hurt me inside.
I deep down believe love is the answer and felt I need to embody that at a new level.
Mind you, when I say love is the answer, I'm not a pacifist, doormat, or person who buries her head in the sand about oppression. I'm convinced, for example, it is possible to stop someone who is robbing others of their rights, and still attempt to have an attitude of love for that awful person.
Letting go of unhealthy anger has been a long journey for me. I've worked hard at it. And I know anger is a healthy emotion. But I don't want my angers to become resentments, be constant, or otherwise restrict or hurt me. An imperfect being, I will never completely let go of unhealthy anger. Luckily, anger is nowhere near the problem it was for me 30 years ago, or 10 years ago, or even a year ago, or even the problem it was shortly before the dream.
I think the dream was a sign that, to a substantial degree, my recent attempts to let go of the hateful anger for haters had succeeded. Goddess, thank you for helping me change.
Snce childhood, I've been aware of the concept of "the other," not that I had a term for it when I was a child. But I suffered as the other. For example, as a dark little girl in an Irish neighborhood, I was repeatedly told I was ugly. And, once, a blonde little girl hurt me, but I was the one who got blamed for wrongdoing and punished. From childhood on, I have been the other over and over. So over the years, I have written a lot of material about the other, often from a shamanic perspective.
Until we get rid of the idea of the other, there is not going to be permanent social change. For example, revolutionaries who overthrow oppressors but then view the oppressors as the hateful, awful other become the oppressors of the old oppressors. Another example: as long as there is the other, the balance of national power will just rock back-and-forth between two small elite groups, instead of everyone being free.
Despite my realization of how much the idea of the other had hurt me, I was still holding on to it in various ways, ways I've bit by bit let go of. More recently, people like the 45th were still the other in my eyes. And that was allowing me a rage that kept reappearing and was going to destroy me. Again, the destruction was solely about my internal landscape, as well as the way that impacts my physical health.
I feel the dream showed that I am truly letting go of that sense of other, and hence anger toward people like the 45th. Trying to let go of the concept of the other and the accompanying anger the concept allows, I've been telling myself the past few years that we are all in this together and, there I was, embodying that in the dream, by living my day alongside Trump.
Don't get me wrong. I think the man and his cronies are so evil that it wouldn't surprise me at all if one reason they kidnapped immigrant children was to sell those children into the sex trade. I think Trump and his ilk are such heinous beings that, just to make money, they'd sell children who are only months old to be sexually used and therefore die, since such wee ones would not physically survive such assaults.
So when I say some anger is leaving, I'm not suggesting that I am losing my moral judgment. My sense of what is right and wrong, as well as my sense of responsibility to fix what is wrong, remains.
I find it interesting that, in the dream, I made peace with him, and he died. Not that I think someone should kill him. The cause of his death in the dream was nonspecific, and the energy around it and in myself about it was very peaceful. I think the death symbolized that 1) resolution in myself has come, the idea of the other is dying in me and giving way to peace and 2) resolution with people like him is also possible. I'm not implying that, if I reason in a loving manner with him, he's going to change his heart and behavior. Just because I'm feeling love doesn't mean he will. He'd just as soon kill me as look at me. He will only change when forced to. But feeling rage over and over will not help me force that change. The ways to compel it, at least for me, are things like voting, campaigning for candidates, signing petitions, civil disobedience and, as my stepfather did in World War II, signing up for the military.
Anger can contract me and close me off from the flow of life. I think the radio part of the dream represented life opening up for me at a new level—even though I've done a huge amount of radio, remember that in the dream I'd never done radio—my shamanic and other efforts flowing into the world more productively than ever because I'd let go of unhealthy anger more than ever. So mote it be.
For an article about love as powerful magic instead of groups polarized against each other, click here: https://stardrenched.com/2018/07/07/magic-is-god-herself/