Cerridwen and Taliesin
A Seven-Week Ritual to Achieve Your Sweetest Goals
Leave behind society's limits that restrict hope and achievement. Magically enter the realms of all power and possibility.
Cross the threshold into mythic lands, where you learn—and live—a revisioning of the Mabonogian tale of crone Cerridwen and bardic-visionary Taliesin.
Win the knowledge in Cerridwen's cauldron. Gain the Fey light that anoints Taliesin's brow, filling him with inspiration, courage, and down-to-earth savviness. The visionary in you can be both whole and grounded, so you can make your dearest goals come true.
If you don't understand my above references to parts of the myth, that's fine. I tell the story during the ritual.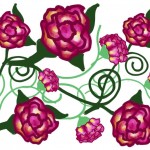 This seven-week ceremony has power and lessons not available elsewhere. My analysis of the myth, which constitutes an innovative, esoteric understanding of the story's elements, generated imitations over the past few decades—rituals described as similar to mine. My version is the one enchanted by extensive underpinnings I developed for this ritual's shamanic process. Explore the esoteric mysteries of Cerridwen and Taliesin in ways that make a big positive difference in your life.
The Cerridwen and Taliesin ritual of grounded empowerment took three years to develop initially. Since then, I've led it many times for over two decades, continuing to refine it. Now, I only offer it every four years or so. (Last time was 2014—five years ago.)
This ritual has prerequisites. We're going to fly really fast toward our dream lives. Prerequisites are:
* Be a Goddess Master Class
or both of the following
* The Goddess Power of Celtic Shamanism (also called Rituals of Goddess Spirituality)
* Entry-level Celtic Shamanic Training (also called Rituals of Celtic Shamanism)
or three of the following
* An Ecstatic Path
* Holy Sweaty Joy
* completion of the first 8 lessons in my book "Goddess Initiation"
* completion of the first 12 lessons in my book "Be a Goddess!"
This is live magic: hands on. On this mystical voyage, you get more out of any spiritual and magical work you've already done or will do later.
Cerridwen and Taliesin qualifies as one of the two electives needed before advanced Third Road training.
Enrollment limited to 14 participants.

Nuts and bolts:
* We meet in teleseminars (group phone meetings). To participate, just dial the phone.
* The event runs seven consecutive Sundays, from noon to one EST, starting June 16.
* Reserve Sunday, Aug 4, same time, for a makeup class in case I'm unavailable for one of the planned sessions.
* Enrollment is $250. Your carrier might also charge you for the call. The area code for the event is a U.S. #.
* Click here to enroll securely using PayPal: http://www.outlawbunny.com/special-events-registration/
* If you've participated in this event, repeat it at half-price, to go whole new places this time.
* Upon receipt of payment, your place is reserved. The event phone #, etc., is emailed to you. No refunds. If you need more info, or want to discuss scholarship, trade, or payment plan, call 814-337-2490.
Fly!