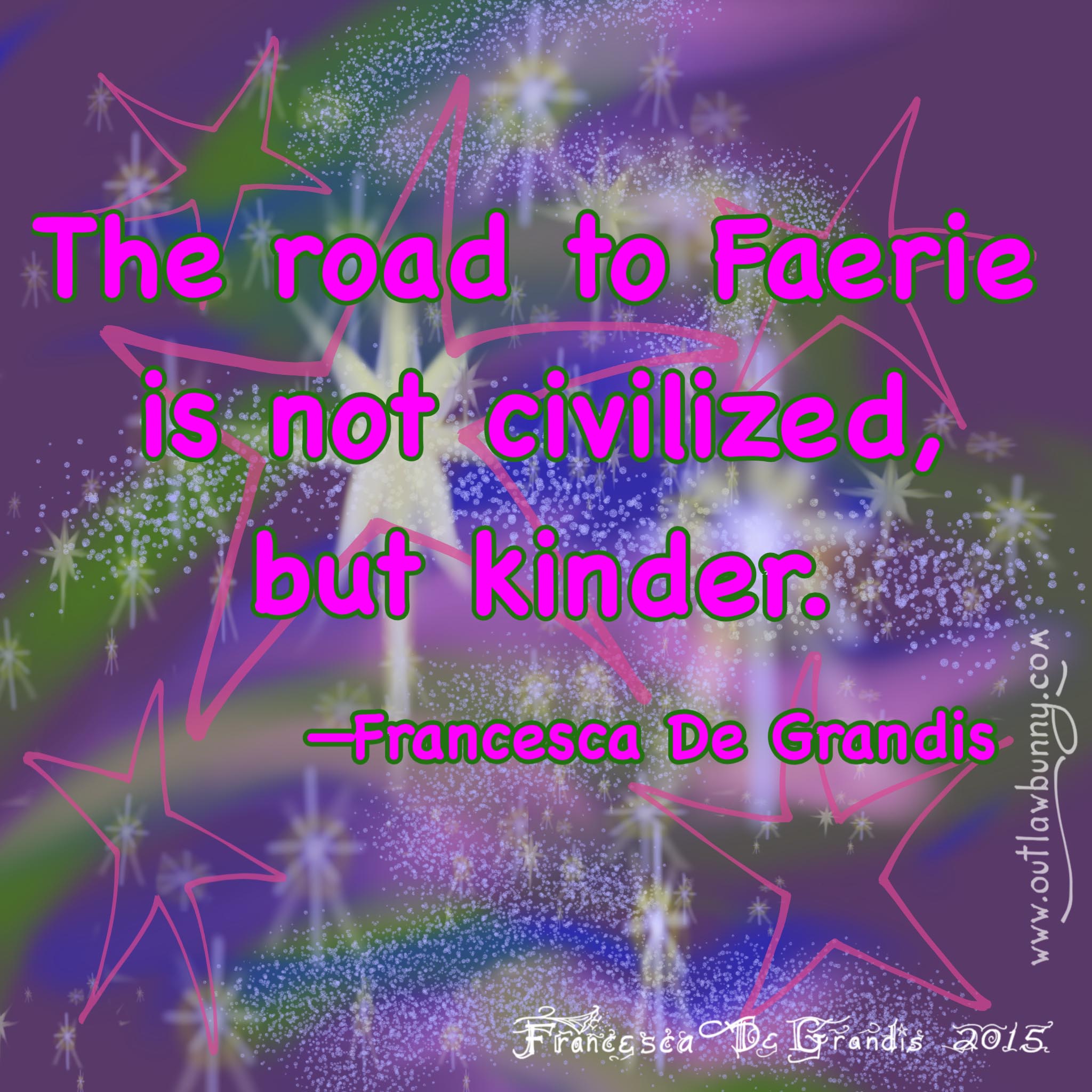 The road to Faerie is not civilized, but kinder.
I wrote the above line in the 80s, but recently someone asked why. Good question! Here's my answer:
Indoctrinated with the idea that our wild aspects are always ruthless and to be feared, many people's wild, beautiful power is crushed.
Breaking out of that oppression, they often go to the other extreme, allowing themselves any actions at all, even cruel or irresponsible ones, unaware they're being hardhearted. They might honestly believe they're doing no harm, insisting, "I'm just being me. If you don't like it, you're trying to oppress me. Not my problem, because I'm a free spirit."
I wanted to create a maxim showing a third option, other than the two extremes of suppression or hardheartedness. So I coupled the ideas of wildness and kindness.
However, it'd take a whole book to fully explain why I wrote the maxim, since I was trying to express so many ideas in it. I use my skills as a poet to write lyrical aphorisms because they can contain endless concepts and levels in a few words and touch the heart rather than just the intellect.
However, I should share: on one level, the adage refers specifically to the path I walk with my students—the Third Road—and was written as part of a blessing for students entering into a deeper level of study with me.
I wanted the blessing ceremony to include the following thoughts: We'd long ago rejected the hardheartedness mentioned above. But our upcoming shamanic journey would release more of their —and my—wild power than even our previous work together had done. When gaining another degree of wildness, it's easy to fall prey to foolishness previously discarded. We needed to continue to integrate our wild and civilized aspects. This would more than ever make us whole in ourselves and as a community. Otherwise, we more than ever risked becoming enormously fragmented in ourselves and alienated from fellow seekers. I preferred to express all those thoughts in words that could be carried through the training not just in the mind but also the heart: "The road to Faerie is not civilized, but kinder."
Hmm … maybe putting all the stuff in the above paragraph into the ceremony would've made things clearer, LOL.
Always happy to answer a question! I can't always explain my poetry, because sometimes poetry is the only way I can explain something. But I tried my best today.
Blessed be.