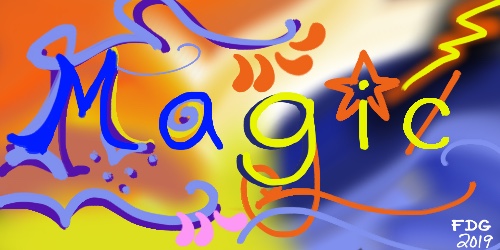 Huge positive changes can happen stat when you combine overtly huge powers, "thunderstorm" energy, gentle rites, and subtle magic.
As a young witch, I studied with a guy who'd acquired extremely powerful rituals, which he taught indiscriminately, to whoever attended his classes.
By and large, the energy of the rituals slammed into and through his students, frying their circuits, and opening pathways to demons.
A few of the rites were okay per se, but they didn't suit the energetic structure of all his students. Such rites were an energetic torrent the unsuited body/psyche could not withstand. For them, it was like being shelterless and hit by a thunderstorm.
The collection of rituals as a whole was also disastrous. Along with the aforementioned problems, the body of rites, as well as the cosmology on which they were based, bit by bit instilled a subtle grandiosity and an, equally subtle, lack of moral accountability in the individuals who did this training. They started hurting people around them, badly.
The grandiosity was partially caused by students acquiring a specific ego structure that can be a temporary means to get through a certain part of a shamanic training. In the case of the aforementioned teacher's students, that ego structure became a permanent fixture, turning into grandiosity—e.g., self-importance, overestimation of one's psychic perceptions, and sense of entitlement. This further fueled the students harming people, often completely unaware they were doing so.
Furthermore, that specific ego structure that I mentioned as helpful is suitable only to certain individuals, temporarily. Even the brief period those individuals experience this ego-state is risky.
Most of the errant teacher's students didn't realize their immense problems stemmed from the lessons. The power coursing through them was exhilarating, seemingly proving they had found something that really worked. Plus, they saw immediate positive results in their lives. But these improvements were short term and part of a process more destructive than beneficial. The "buzz" felt during the rites became a drug, keeping improvements in their lives and in their psyches at bay, instead of creating forward momentum.
While studying with the teacher and in the years after, I witnessed his students fall prey to drug addiction, suicide, and more.
Here's another reason most of the students didn't spot what was happening: society as a whole portrays brute force as the most effective—and actually only real—means to an end. E.g., many individuals consider the acquisition of wealth and resources through both warfare and ruthless business practices to be norms humans must resort to, if they want success in life. This portrayal becomes internalized by some magic seekers, making them believe being buffeted by life and by their magic is the basic state needed to move ahead.
Not realizing the source of their new problems, the students figured they were at fault, and just needed to work harder at the lessons. After all, the teacher boasted about his lessons' power—his demeanor, tone of voice, and words exuding, "Ooh, look how dark and mysterious and dangerous we all are. We are real witches, not like those pretend witches."
Later on, I became the go-to person, when one of that teacher's students fell apart. For example, I was at a Pagan festival, and someone came into my tent and said, "Francesca, so-and-so did a blah-blah-blah ritual with their teacher last week, and now is completely falling apart. She's a mess, can barely speak. Can you help?" I took care of her. I even had to do an exorcism on one of his students.
I was raised in a shamanic family tradition. I was already teaching witchcraft and working professionally as a psychic, when I went to study with this deluded teacher. So I had a different perspective from his other students, as well as the ability to psychically see the damage caused.
Surprisingly, the harm he caused was a good lesson for me. Though I could manage the energy he was teaching, I came to see that managing it and wanting it as a lifestyle were two different things. I knew the energy wouldn't be healthy for me long term (aside from a few bits here and there).
Seeing how this energy adversely affected those around me also affirmed that witchcraft is not one-size-fits-all. I committed all the more to my approach as a shaman:
You see, I neither heard nor read anyone mentioning that energy could fry a person's circuits, or that some seemingly benign energies can open pathways to demons. I neither heard nor read anyone mentioning a rite needing to suit the energetic structure of the person doing the rite. I neither heard nor read anyone mentioning rites, and the cosmology on which they were based, subtlety instilling grandiosity and lack of morals. I neither heard nor read anyone mentioning a specific ego structure as a means to get through a certain part of shamanic training. And so on. I developed all these theories myself and, with no one else mentioning them, it would've been easy to have mistrusted myself. But the problems caused by that errant teacher's lessons proved my theories to be sound. And, as I said, I committed all the more to my approach as a shaman:
Many lessons I teach, and spells I do for my community members, are gentle yet effective. Their immense power is often subtle. My students/clients report miraculous improvement in their lives. The changes are long term. When appropriate, I teach and perform rites that run overtly powerful energy, or energy I liken to thunder; the two types of energy are sometimes one and the same, but not always. (The thunderlike energies taught by the aforementioned teacher were, by and large, not healthy for anyone. But there are wondrously beneficent thunderlike energies.)
I am gentle with myself energetically. Yes, dynamic power like thunder is great. Yes, power is everybody's birthright. But there are many forms of "thundering" power and not all suit everyone. And some are tied to demons. (I don't risk hanging out with anyone who thinks they can safely play with demons.) I run only the thundering powers that suit me. I teach only the ones that suit the specific individuals attending my classes. When needed, I meet with those students one-on-one, to teach them additional powerful rituals tailored to their particular energetic makeup.
Gentle is a big power and just as dynamic as "thunderstorm" magic. Gentle powers are among the strongest. Subtle powers are also among the strongest.
So, though I can run more overtly huge powers, ditto "thunderstorm" magic, and both are a large part of my practice, I need to use gentle and subtle powers just as often.
The proof is in the pudding: my students' success in their professional and personal lives demonstrates what happens when gentle and subtle magics combine with more overtly powerful and "thunderstorm" ones.
Sometimes I feel like the spells I am doing to improve a given area of my life are getting nowhere. Then I try to remember that, often, change takes time and happens in incremental steps. When I do this, big change can arrive all the faster, perhaps quite soon. This is a smarter course than spells that slam energy at me.
Small progress adds up to big progress.
Big changes can be happening, even when I don't see them.
A therapist once told me you might not notice a big change in yourself till a year after it has happened. Wow!
Big external changes can be well underway, but I won't notice.
And, as my students and I can attest, huge positive changes can happen immediately when you combine overtly huge powers, "thunderstorm" energy, gentle rites, and subtle magic.
So mote it be! Goddess, thank you.
————————————————————-——
Dear reader, social media often deletes counterculture from your feed: e.g., if my Facebook post has a link to my site, good chance Facebook blocks the post from you. Don't let corporate websites restrict what you see. Click the bar below to subscribe to my newsletter for free. Receive special offers and freebies. Walk in the wild magics with me. (The wild magics include overtly huge powers, thunderlike energy, gentle enchantments, and subtle magics.)