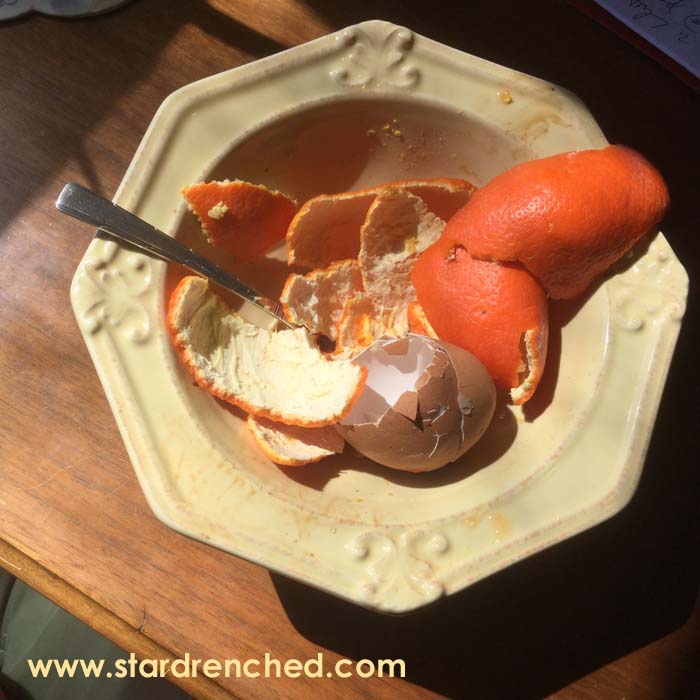 A Beautiful Goddess and a Dirty Spoon:
Kitchen Magic
Even the remains of breakfast—egg shells, tangerine peels, a dirty dish and spoon—are blessings on me.
A blessing: the remains of this meal flooded by sunlight pleases my eyes.
A blessing: to eat today and nourish my body is beautiful—such a gift!
For me, to be a kitchen witch means to acknowledge and appreciate the immensity of the harvests given me by my beautiful Goddess and to gift others in kind.
Today I will make a donation to feed a hungry child.
A blessing: to have some money to help someone in one of the most important ways—food.
To be able to give is such a gift. Were I to instead view giving as magnanimous on my part, it would imply that I was bending down from on high to help someone less worthy. I'd be denying who they are by turning them into a character in a story I'd written to pump up my ego. Instead, we are all in this together. Farming communities have long understood that it is by having each others' backs that we all survive and thrive. It is a lie perpetuated by the American upper class that the best way to "make it" is on our own, climbing over the backs of others.
Getting to give is a gift. It is part of the cycle of life, a gate into the sacred circle, a consecration of the four directions, and one of the great mysteries. Giving is a chance to be a human being—such a gift! Giving is a chance to be with another human being (even if you never meet them because you're donating to an organization that serves them)—such a gift!