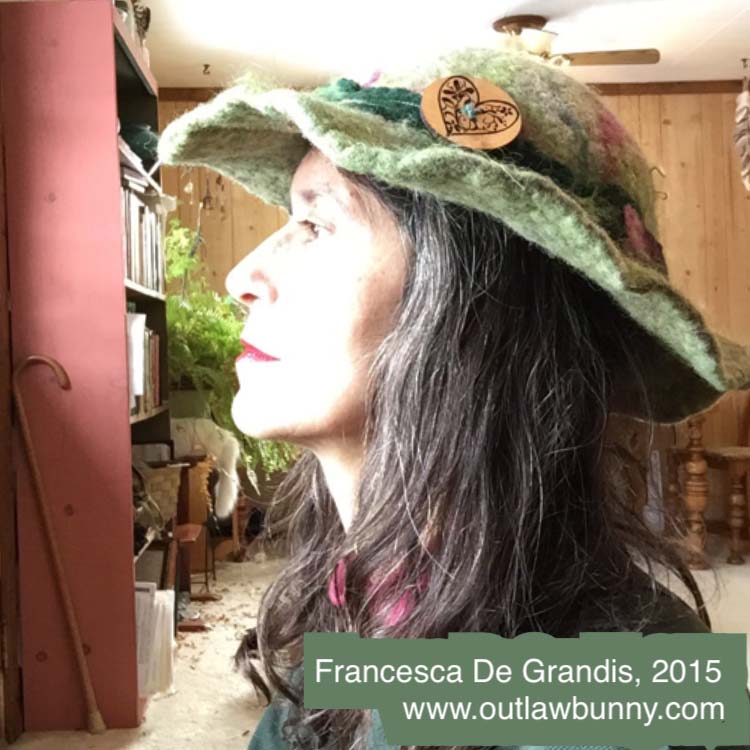 Trends change rapidly in the Pagan community. We often see "an indisputable fact" ricochet to its exact opposite within years. These "truths" cause immense discord. How can we navigate these treacherous waters without disavowing our own personal wisdoms? We all find our way of doing it. If I share mine, perhaps that might make finding yours easier.
So, a story:
Way back when, most American Pagans insisted traditional craft was nonexistent. People became downright nasty in their disdainful insistence there is no traditional witchcraft. Nowadays, many Pagans discuss traditional craft, what it is, how to do it, and where to learn it.
The party line back then was that anyone who claimed a traditional craft lineage was a liar. The person in question might be completely discredited.
To the best of my understanding back then: a big name Pagan dishonestly validated the material he taught by saying he'd gotten it from his grandmother, a traditional witch, but he lied about her being a witch.
People just decided, if he was lying, everybody else must be. Good grief!
Ok, let me continue this tale by adding how it affected me personally:
I was raised in a longstanding European-based shamanic family tradition. This was hardly a secret to some of the Pagans I knew. But, in case it's useful context for the rest of my story, I didn't have a best selling book yet, so the number of people who knew anything about me were far far fewer than later became the case.
You can imagine, amidst all the vitriol and possibility of being totally discredited, I was thoughtful about when to mention my traditional witchery to a Pagan. I wanted to avoid the near certainty of being branded liar in the larger Pagan community.
Close friends knew my family background, and I'd tell others when it was important. In fact, when the bestseller did come out, its back cover mentioned my mom was a Sicilian witch. To do otherwise would've insulted her and all my witch ancestors. But I also used discretion. For example, skirting my family history in casual conversation.
What I'm saying is: navigating the dangerous seas of trending "absolute truths" was challenging—for one thing, it can be frightening to buck popular opinion—but I found ways to maintain integrity while also guarding my emotional equilibrium. We can keeps our spirits whole. Here are two navigation skills that worked for me:
One is knowing it is vital to trust your own beliefs and respect the value of your own experiences, despite people who try to hit you over the head with trends to make you feel ignorant or otherwise not as "authentic" a Pagan as they are.
The second navigation skill is discretion. I want to practice discretion about whether to say something.
Nowadays, most people use the word discretion to mean holding silence. But discretion can also mean wisely considering the best course of action, judging each situation according to its specific circumstances. I'm using the latter definition here. So, in terms of our topic, discretion might lead one to speak—to good purpose—or to remain appropriately mum.
It's vital to speak up for your beliefs when there's good reason. Losing self-respect does not constitute successful navigation of treacherous waters.
As to choosing silence, let's start with the example of avoiding arguments with people who aren't going to listen.
Back when mentioning a family tradition might completely discredit you with many people, I was at a dinner party where someone who was constantly on power trips declared, in a high and mighty tone, that as a scholar she was devoted to naysaying the possibility of a family tradition. She did not know I came from one. I didn't tell her. (A friend in the know did surreptitiously wink at me. That was lovely support.)
Most people who jump on trending absolutes will neither listen nor engage in a courteous, informative exchange of ideas, because they'll rush to prop up wobbly egos with pseudo-knowledge. They'll just try to browbeat you into feeling you're wrong, though that may not be their conscious motivation, bless them. Wasting your time in a verbal entanglement amounts to letting someone's pseudo-truth get the better of you. Your time is sacred.
Yet if she had been honestly interested, and merely misinformed about whether traditional witchcraft existed, I might have discussed my family.
Important aside: Though I avoided an argument at the dinner party, I admit my record's not perfect with that sort of thing. Luckily, seeing how it depleted and upset me helps me not repeat the mistake any more. A hard won lesson, but one that frees me from other people's opinionated insistences.
This blog is long but the following feels vital. Another example of discretion and silence:
(Please note, I'm going to use traditional witchery as an example in this essay again. That's a coincidence. The examples have no relation. So don't think you need to connect the dots between examples.)
More than once, a segment of the Pagan community inflated their position to one of dominance by stating "superior" pseudo-truths, and I could have deflated their posturing by disclosing a bit of traditional witchcraft's sacred lore.
I stayed mute about the lore. I was blessed to have received it, so would not disclose it merely to prove a point to people who would not have viewed it as precious information but who would have pawed it.
They'd have greedily grabbed at it as mere words—exploited it as verbal fodder they could parrot to appear in-the-know and first string. (Heh, at least I got to feel smug about keeping my mouth shut. … Ok, I admit, feeling superior wasn't good for me.)
Had I said anything authentic, nobody would have cared. The agenda on their table was to show how important and "wise" you were. That was not an agenda I wanted to be part of, even though telling them traditional material would've moved me to the top of the food chain. But climbing up would have actually, as the old expression goes, dragged me down to their level. … Goddess, I was tempted anyway. … Maybe smugness about my silence was my solace.
My story about being silent is relevant to discretion stopping fake truths from derailing your personal hard-won beliefs, in the following ways:
Opening my mouth would have been my ego reacting to theirs, as well as meeting their attempt to move up in a hierarchy with a similar attempt of my own. Both of those would have betrayed my personal belief in not living in ego or falling prey to power struggles.
It also would have wasted my time and life force, instead of me going about my merry business, living happily according to my own ecstatic truths.
Responding to someone's power play with one of our own can be incredibly tempting, but also incredibly damaging to ourselves. Ego-driven magic and power-hungry grabs put someone on the slippery slope of chasing chimera more and more, less and less living joyously in the beautiful world the Goddess created for us.
Had I shared the lore for the purposes of my ego, I also would have debased that material. Reduced to mere words in order to feed my ego, the power of that beautiful material would've been lost to me, crumbled into dust like Faerie gold.
There's one more way someone's pseudo-truth would've gotten the better of me if I'd blabbed sacred knowledge for the sake of ego and dominance. I would've betrayed my following personal truth: I hold my religion sacred by only using it for honorable purposes. To do otherwise, I would truly have failed navigating the rocky seas of community-enforced pseudo-truths and sunk to the depths.
When magic and spirituality become tools to create unhealthy hierarchy—aka dominate others—they go sour. So does the spirit of the practitioner in question. His soiled shamanic path is handed down to his students, its very essence feeding their worst aspects, perhaps subtly but thoroughly. A nightmare for the community.
When magic and spirituality remain tools to serve, in respect for our differences, those tools become more powerful and capable. So do our spirits. Free of contentious opinions and excess verbiage, our innate magic fills each day, often silently. We become blessed by—and a blessing for—community.
I hope some of my above opinions are useful to you.
I teach traditional craft. My Gods bless me with wise students: They are wise in so many ways, but one is that we all respect each other. Honoring our differing views as assets allows each of us to uniquely contribute to the group's magic and well-being. This in turn allows each of us to benefit from all the participants' strengths.
If you'd like to join us, I teach mostly via group phone calls—aka teleseminars. Subscribe to my free newsletter, which tells you about upcoming classes: https://outlawbunny.com/newsletter/
Have a magical day.