The society that murdered thousands of witches also hid the nature of oral tradition, burying even a hint of its immense power to remove our shackles.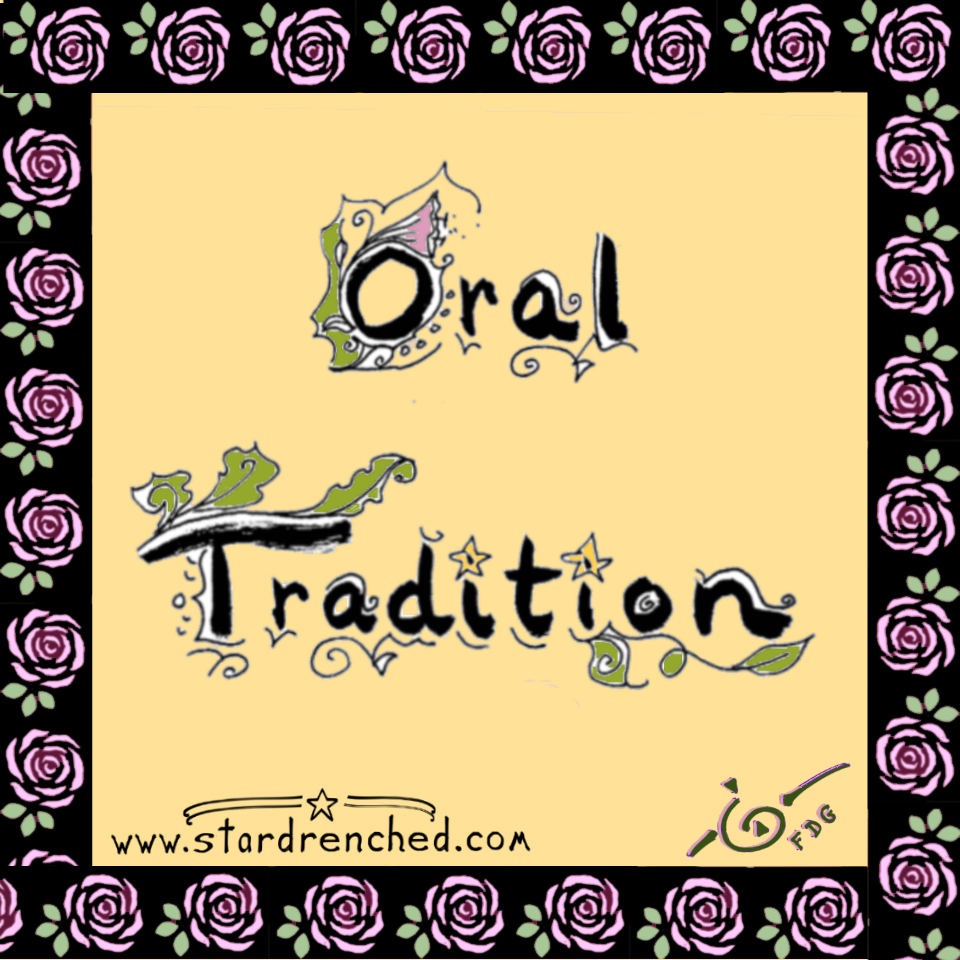 I'm a dinosaur, but will not give up teaching oral tradition. Its power is needed.
The trend is online classes. There is also some good money to be made there for teachers. But I'm committed to oral tradition, so teaching online isn't an option. It's not oral tradition, at least not as I know it.
Mind you, I leave each person to their own definition, and I support each Pagan's choice of teaching methods. I'm not here to debate what is or isn't oral tradition, or what teaching method is best.
Instead, here I'm discussing my commitment to the indescribable experience of glory and power conveyed only through a certain style of teaching, whether you call it oral tradition or Francesca's style or George. 🙂
It's interesting I used the words "indescribable experience." The term oral tradition was originally used (in part) because there was no point in writing it down. No record could possibly convey it—it was indescribable.
The indescribable beauty and freedom of a lifestyle informed by oral tradition keeps me committed to it.
Beyond my students' note-taking during classes, any record distorts—and might even corrupt—the original transmission. I don't allow recordings of my oral transmissions. Nor do I provide transcriptions of them. Sometimes I ask people to refrain from taking notes.
Oral tradition can happen by phone (known as teleseminars). That is the medium I mostly use to teach. We transcend time and space to walk between the worlds together.
Past life memories tell me a communal knowledge of oral tradition was exterminated centuries ago: A society driven to murder thousands of witches also hid the nature of oral tradition, to bury even a hint of its immense power to free us from external and internal shackles. Thus, oral tradition is tangential to how our society as a whole represents it. It is not a discussion group, therapy group, or support group.
You know what? I don't think I'll call myself a dinosaur. I'm actually a gorgeous, powerful dragon. The gems in my dragon hoard are the treasures of oral tradition. I'll keep sharing them, while my dragon tail encircles them and my students from those who would rob us of this heritage.
I don't expect anyone to believe oral tradition provides benefits and beauty that cannot be received elsewhere, until they experience it firsthand. Something happens I can't describe here—there's that word "description" again—because it cannot be explained in writing, it must be experienced.
Technology's seamless integration into our lives makes tech an extension of a person to some degree, but that does not turn online exchanges into legitimate oral tradition. I do not know a way to transmit oral teachings via vid chat, even if no record of it is kept. Once again, explaining that is beyond the limits of the written word.
No one can understand my underlying reasoning for my position unless they talk with me … talk, as in oral tradition.
Many people have been shocked or puzzled because I'm a best-selling author whose phone number is on her webpage. As hard as I am work writing books that transform lives—I'll spend a decade writing a single book, because my standard is sky high—I work even harder on oral tradition, because my Gods told me to center there. As powerful as my books are—there are few better—my oral teachings are even more powerful. I love living in oral tradition.
So I put my phone number out there. 814.337.2490. For one thing, some people need a taste of oral tradition to know whether they want to work with me.
To enter oral tradition with you represents a willingness on both our parts to show up—take responsibly for the moment and be present in it. Then unparalleled magic fills us.
I'm blessed by students who take responsibility for their lives. Some live in the now so fully that they make a long-term commitment to learning my oral teachings, so we can moment after moment after moment create mind-boggling changes in our lives.
It's hard to make that commitment. But even if they have insane schedules, relentless financial pressure, or other enormous, daily demands, they make time. Lo, their schedules become less crazy, the demands get fewer, the pressure relents, and they move into their dream lives. Oral tradition is about living life to the max.