Africa—The Origin of Fairies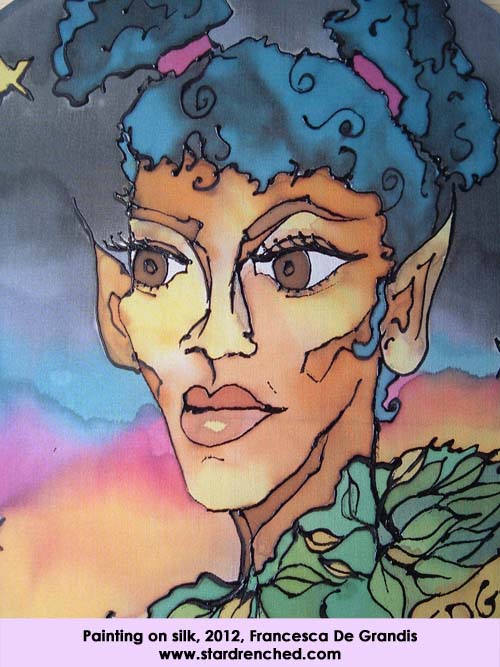 Contents of Africa—The Origin of Fairies
Who Were the Original Fairies (Faeries) of Ancient Lore?
The Appropriation of African Fairy Culture and Magic
Goddess Tiamat—The Babylonian Origin of Mermaids
"It's Not True to the Original Vision" Is a Racist Remark
Every Culture Has Wondrous Fairy Lore and Myth
Faerie Magic Isn't a Commodity for Oppressors to Appropriate
Faerie Secrets & Sacred Mysteries Thrive Only in Shamanic Cultures
Honoring African Faery Faith Ancestors
Diversity, the Fairy Witch, Magic How-To Books and Classes

Here's one of the most frequently asked questions about Fairies and the ancient Faery Faith:
Who Were the Original Fairies (Faeries) of Ancient Lore?
The original Fairies (Faeries / Faery / Fey …) were an ancient African tribe near the Dahomey coast. They were people of tiny stature and migrated throughout the world, teaching their enchantments.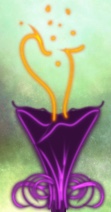 That history was taught to me orally decades back (by someone who needs to remain anonymous) and still makes sense to me. Africa has been the birthplace of so much of the world's culture that it likely had to be an initial source of magical culture. (Later, this post touches on how magic is not separate from culture.) Plus almost every ancient society has lore about a small, dark, magical people. One example is the Menehune—the Fey Folk of Hawaii.
Lore about the origins of Fairies differs. Some, at least on an overt level, are more mystical than what I've provided here. But I find none of the versions incongruent with the others.
For example, it is said Faeries descended from human women who mated with Gods. Ancient stories of Gods falling in love with human women were worldwide. Whether such lore is taken literally or not, myths in which humans and Deities couple are part of many cultures. These myths have deep roots in humankind's psyche and echo a Fey origin that is fairly consistent outside of colonizer culture, even if we never know the actual events that underpin the myths. Not speaking necessarily literally here but, perhaps the aforementioned migratory individuals of Africa were the first descendants of women who dared to be adored by a God.
(For other lore about Fey origins, click here: Fairy, Faerie, Faery, Fey, Fay, …)
Note: I tend to use the following words interchangeably: Fairy, Faerie, Faery, Fey, Fay, Fae, … If you want to know why, click the link in the previous paragraph.

The Appropriation of African Fairy Culture and Magic
White writers almost never cite the tale of migrating Fey Africans. This lack exemplifies Africans and people of the African Diaspora originating something that is then credited elsewhere. In this case, it is the insistence that Fairies are innately a European construct.
Also, racists consistently turn BIPOC away from the very things their cultures helped create. If drawn to European shamanism, they are often treated condescendingly or excluded. When they dress up as Fairies for cosplay, they are often harassed in cosplay groups.
And lack of representation of BIPOC in modern fantasy art, literature, and film has been rampant.

Goddess Tiamat—The Babylonian Origin of Mermaids
At the time of this writing, there is tremendous backlash against Disney for selecting Halle Bailey, a black woman, to play Ariel. Ariel, the lead character in Disney's live-action remake of The Little Mermaid, is a mermaid.

This brings to mind another erasure: Tiamat, an ancient Babylonian Goddess, was the forerunner of all mermaids. No way was She Anglo.
After examining a goodly number of online debates and articles about Disney's casting choice, I have not seen one mention of Tiamat. It hurts my heart that Her erasure has been thorough enough that I saw no one bring up Tiamat to counter arguments that a white woman was the only appropriate person to play Ariel.
I hope mentioning Tiamat here helps a little in healing wounds from the racist comments that Halle Bailey should not have been cast in the role.

"It's Not True to the Original Vision" Is a Racist Remark
The lack of diverse representation in modern fantasy art, literature, and film is starting to shift. But it's a bare beginning in the face of the overwhelming colonizer culture that portrays whiteness as the norm.
(One of the exceptions to white-only fantasy movies before recent shifts is Hong Kong Cinema's decades-long fantasy genre. Check it out if you like fantasy because it includes the most visually-stunning, pulse-racing, wildly-imaginative movies I've ever seen.)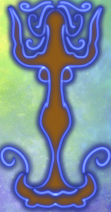 One argument against Halle Bailey playing Ariel is "It's not true to the original vision." That's a racist remark. For one thing, the original vision was Babylonian.
At this point, a racist will want to interject, "I was referring to staying true to the Hans Christian Andersen version from which Disney adapted their script."
Sorry, no go. Hans Christian Andersen contributed a lot to the world, but his work also upholds racism. Disney's cast selection is helping remedy that.
Racists are insisting that casting BIPOC in the current Lord of the Rings series goes against Tolkien's original vision. Going against his vision is a good thing. His vision was racist.
Supposedly erudite arguments that putting BIPOC in Fairytales is inconsistent with the original tales are erroneous. Often, white people's Fairytales are Anglicized bastardizations of BIPOC's lore or myth.
"Upholding tradition" often means maintaining the tradition of systemic oppression.
Well-meaning white people who say, "We need to change representations of Fey legends to be more inclusive" might want to examine that sentence. It defines "we" as innately white. The global majority is not white.
Much of that majority population never viewed Fey creatures as only Scandinavian, Welsh, French, German, etc. Fairy Folk are part of most native cultures.
Every people has wondrous Fairy lore. This prevalence of beauty and power is something to celebrate, not deny.

Every Culture Has Wondrous Fairy Lore and Myth
Whether Fairy lore is Polynesian, Chinese, European, or stems from another place, it shows humankind has always had a relationship with Fairy magic. It is a human heritage that left its marks in all societies and belongs to all people.
For example, Witches centuries back in my Italian family lineage and in many ancient Mediterranean villages viewed the Goddess Diana as the Queen of Fairies.

Faerie Magic Isn't a Commodity for Oppressors to Appropriate
Magic is not a commodity for oppressors to steal for their greedy purposes. Lore throughout the world tells of Fairy magic spells that free us from oppression. The Goddess Diana was known as the champion of the oppressed.
Magic is not an object like gold in the earth that someone can cleave from rock for selfish ends. Magic is not an object to be owned. Magic is a heritage. Magic is not separate from its environment. When stolen, the Fairy Queen's magic spells become impotent. Here's why:

Faerie Secrets & Sacred Mysteries Thrive Only in Shamanic Cultures
For me, Witch spirituality includes living in the understanding that everything is connected.

Faerie secrets have context. Mysteries abide in Shamanic cultures. (For brevity's sake, I am not defining Shamanic culture here. If you need a definition, imagine what it might be. You'll probably be close enough to understand the rest of what I'm saying.) Faerie secrets are stripped of magic when they are stolen, their cultural context dismissed.
No wonder many dishonorable culture-thieves who divide all of life up into components insist that magic doesn't work.
Another reason they can't find magic's power:
Magic is the living presence of the old Gods' loving care of Their human children. Cultural thievery breaks the link to the Gods and hence to magic. In other words, ripping magic from its culture disintegrates connection to source, which ultimately is Deity.

Honoring African Faery Faith Ancestors
The British Isles' ancient Faery Faith is not a rigidly-defined entity, divorced from the rest of the globe. African spirituality and the Faerie Faith were never separate. The Faerie Faith originated in Africa.
Another thing Witch Spirituality means for me is that the Old Gods are my ancestors. This is more than a belief. It is also my experience.
I believe in greatness because I experience the Old Gods' powers in me.

But no one can honor or stay connected to the Old Gods unless they honor their human ancestors. That includes humans to whom they are not related but who helped create their culture.
And all humans are related, so there we are.
As to more immediate ancestors—both cultural and biological—I'll use myself as an example. Traditional African-based spirituality is strikingly similar to the ancient European Shamanic family lineage in which I was raised. Africans are among my Faery Faith ancestors in more than one generation. Many Africans lived in the ancient Mediterranean, intermarrying and influencing its spiritual culture. The same is true of other parts of Europe, though colonizer history denies it.
Dishonoring human sources distances one from the Old Gods.
Part of addressing ancestral trauma is healing trauma from cultural thievery that ancestors suffered. I hope attributing origins in this essay helps that healing some.

Diversity, the Fairy Witch, Magic How-To Books and Classes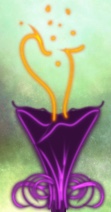 I teach Goddess spirituality and Witchcraft as tools for transforming one's inner and outer realities.
No one should be turned away from magic's miraculous powers and joys.
Anyone who wants can be a Fairy Witch. Meditations with the Fairy Queen and other Fey rituals belong to everyone. Magna Mater—Great Mother Goddess, Creator of All—is known as the Queen of Fairies, in culture after culture. She is a loving Mother who welcomes all Her children to the empowering magic of the Fey.
If you want fellow seekers who embody diversity, study with me. Click the newsletter banner below to receive notice of new classes:

Francesca De Grandis, Fairy Witch and bestselling author of Be a Goddess!, offers long-distance classes, Shamanic counseling, and healings. Her Goddess spirituality embraces practical magic spells. Trained from birth in a Shamanic family tradition of Italian (La Vecchia Religione) and Celtic Witchcraft, she practices Witchcraft that is an ancient Faerie Shamanism. An Italian Witch is also called a Strega. Francesca equates Fairy Witchcraft with Faerie Shamanism. Nowadays, most people do not view European Witchcraft as a Shamanic practice, but traditionally it was for many practitioners.