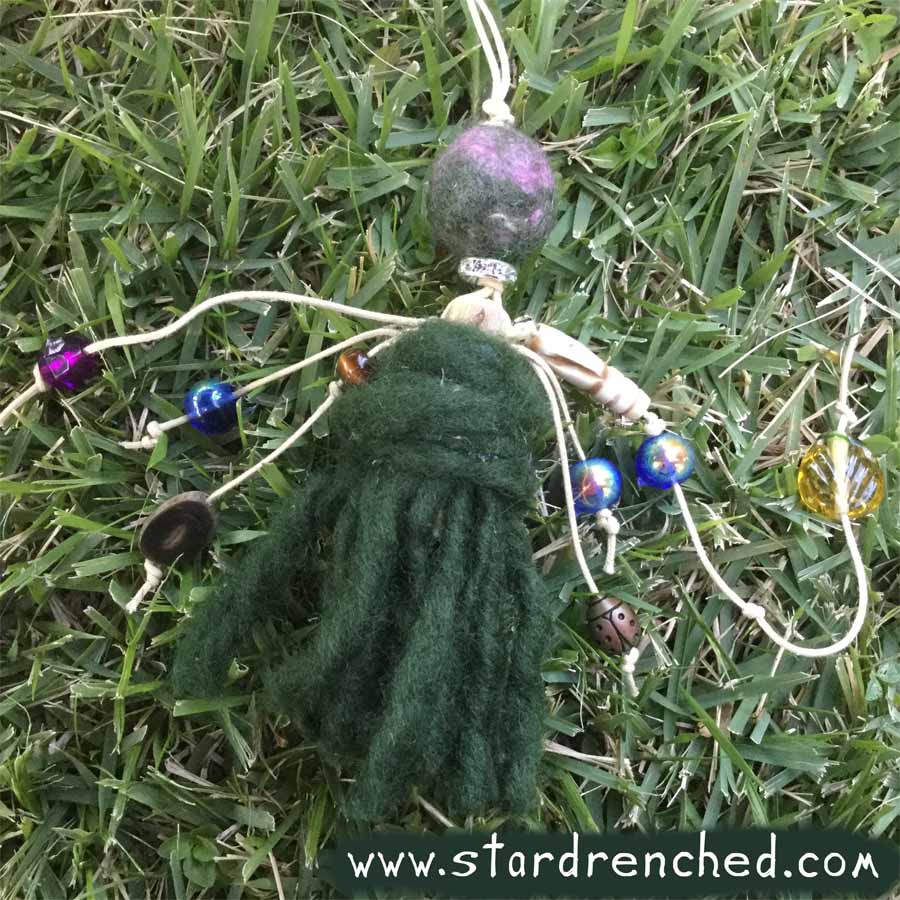 Sometimes our friends/clients don't need "help," even if we have skills capable of creating positive change for those we serve. Sometimes we serve a person best by investing our skill set in honoring them—and their circumstances—exactly as they are.
Here's an example. I know someone who's suffered extraordinary difficulties for years. I foolishly wanted to meddle—"save" her. I wanted to give her spiritual healings. I wanted to teach her shamanic exercises to become stronger. I wanted to show her abilities she doesn't know she has. I wanted to make a protective amulet to ward off negative energy around her. I wanted to, I wanted, I wanted. None of it was what she wanted … or needed.
Mind you, everything I longed to do for her is perfect for many of my clients. And could be perfect for her at another time.
But the following is what I did. I made her a totem. As I chose objects for it, I let go of what I thought was "right" for her. Instead, I selected items to honor and celebrate who she already is.
The totem's sole purpose (oh my, voice-recognition translated that as "soul purpose") was to represent how wonderful she is. I completely let go of all other agendas. That included releasing the thought that her experience of my celebration might empower her to make changes I felt could help her with her struggles. She knows best, not me.
So there's a long bone bead with stars in it, because if anybody has stars in her bones, it's this woman. The wood is European Elder—sambucus nigra—and is a piece so young that it's mostly soft, spongy pulp—fragile, as are we all. Its youth also gives it a wondrous sensitivity like my friend's, and a gentle, subtle, yet dynamic magic that my friend has. The ladybug portrays another aspect of that.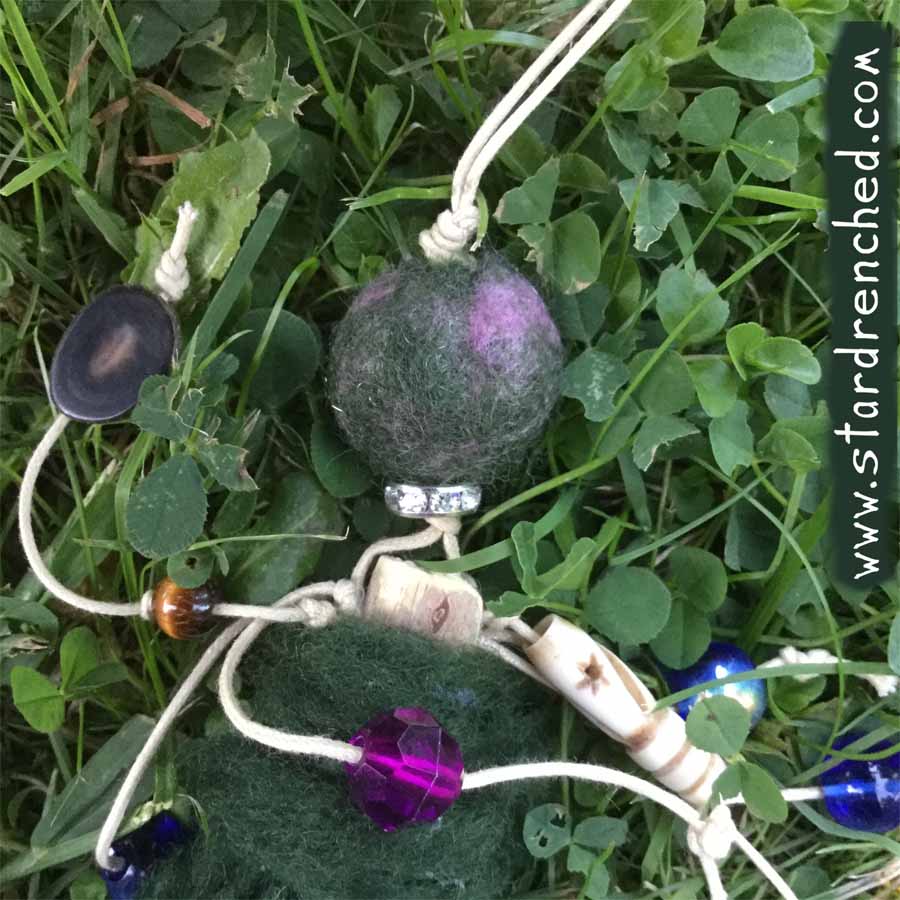 Three luminescent cobalt beads represent the mysteries she lovingly serves. A bead that is probably tiger's eye and one that is probably goat horn represent how down-to-earth she is; she modestly infuses sacredness into her daily mundane responsibilities, though they are immense and humble.
A purple bead symbolizes the beauty of her spirit and the beauty she gifts people around her. A leaf indicates her care of Gaia's children. I made the wool bead on top because … well, she'll know why. And I had to add something sparkly because she is Fey.
At some point in its creation, this wall-hanging chose to be a doll. (Heh, a wall-doll.) So I spun yarn (which I felted a bit to help it set, since its winding wouldn't be held tight by a weaving or the like) to shape the body.
Is "totem doll" an actual term? … This totem doll represents her spirit. … The term "spirit doll" is popular nowadays. … I could call it a "poppet," because that's a term for a doll used in magic. Not that I expect my friend to do spells with this, unless she wants to, but this doll was used magically in that I blessed it. And to play with words, "poppet" is a traditional term of endearment; making this artifact was an expression of love.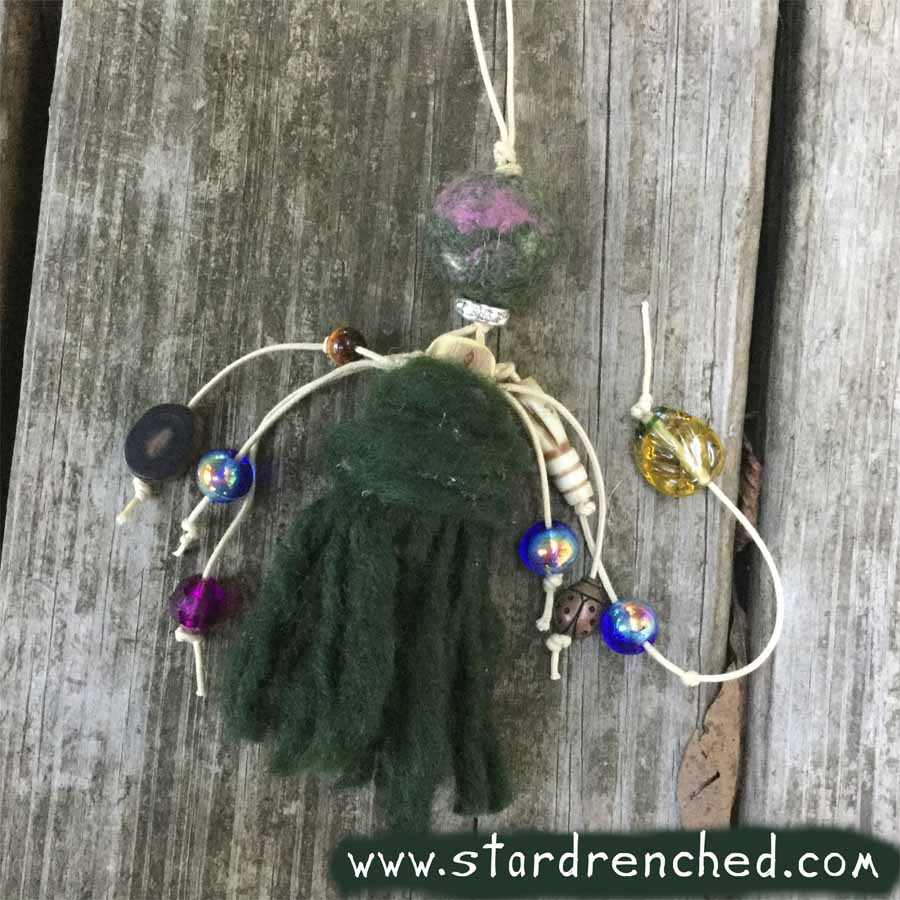 Creating the poppet was an unexpected gift to myself: I no longer need to fret about someone I hold dear. Affirming some of this woman's wonderful attributes reminded me she has many other amazing powers, so needs no rescuer; she has every resource she needs within her, including the ability to ask for help when she requires it.
In case someone reads this post as an either/or proposition: I do not usually choose between helping friends/clients create positive change and honoring them exactly as they are. Most of the time, serving them both ways is beneficial.
Facilitating shifts they want in themselves and in their lives is a more respectful process if I also mirror back to them, in word, visual art, or ritual, their beauty and power—including that which is hidden to most eyes and that which they do not even see themselves.
It feels important to mention this sort of mirroring and affirming of those around us can require as much skill, thoughtfulness, and magic as does helping them make changes. For example, I have the psychic ability to see the beauty and power in people, even if they cannot.
Why is it important to mention the skills involved? Because people with lots of skills for creating change can feel frustrated when they can't use those abilities for someone they care about. But you can apply your gifts another way—to honoring someone just as they are—and accomplish something vitally important. People need to be respected for who they already are. People need to be fully met right where they are.
Sometimes trying to "help" someone robs them of dignity. If instead, we honor them as they follow whatever path they choose, achieve victories that are important to them (as opposed to victories you think they need to gain), make the mistakes they need to make, and explore the parts of themselves they think vital to explore, we give an invaluable respect. That respect is also known as "love." So mote it be.