Diana's CrossRoads During the Pandemic
Creating Spiritual, Physical, and Financial Wholeness in Crisis
I'm at double risk regarding Covid 19, being elderly and disabled by a chronic health problem. I'm also unable to receive medical care, due to corrupt bureaucrats.
So I understand that ethics and inner empowerment are possibly irrelevant luxuries for some folks when life gets really hard. But not for me. My spiritual wholeness and commitment to serving community during this crisis are tantamount.
After repeatedly conquering circumstances that easily kill people—e.g., poverty and life-threatening illness—I saw that, for me, my spirituality at such times was an essential tool for both surviving and the subsequent establishing of my happy, prosperous life.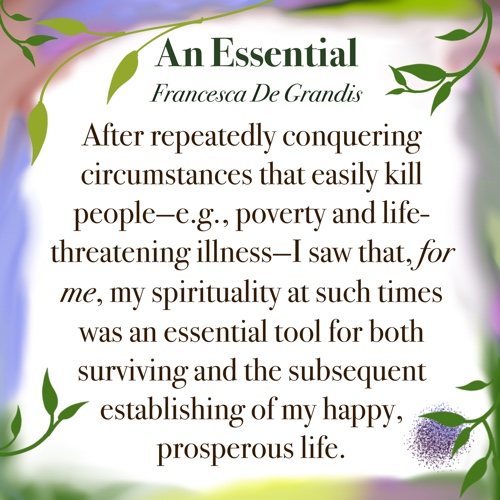 At a ritual I led last week, we each found ourselves at a moral crossroads and made decisions about which route to take. In the months ahead, I think a lot of people, myself included, might face a lot of moral crossroads. Most of mine will likely be about the need to dedicate myself more than ever to relinquishing false ego, surrendering to my Gods, and serving Them and all Their children. At least that's what came up for me during the ritual.
During the rite, I channeled the "script," so it's not written down. But I'm hoping to convey a bit of its sentiments in this post.
We each went to the otherworld and stood at the archetypal trivia with Goddess Diana. In Roman Religion and the Cult of Diana at Aricia, C.M.C. Green says the crossroads of Diana is not the cross-shaped junction made when two human-made roads cross, but is the Y-shaped trivia found in less tame environments and is created by animals' travel. Green spoke of paths that connect to make the trivia as wild and dangerous, explaining that a human walking such trails might stumble upon a ferocious animal, and an animal traveling thusly through the forest might come upon a hunter. I couldn't find the passage in the book again that discusses this; I hope I'm not misrepresenting Green's work.
The day of the ritual, the roads' deadly possibilities represented moral dangers to me.

Morality is not an abstract, for me. For one thing, when I do not make moral decisions, my good fortune diminishes. The diminishment isn't always related to the decisions, per se. Poor ethical choices block me from blessings. Ethical choices increase not only my wholeness of spirit but also the wholeness of my finances, physical health, and every other part of me. For example, when I sink endlessly into worry about finances, income dwindles if not outright evaporates. It is only human to fret. But, at least in my particular case, living in that mindset is being self-involved, which isn't a virtuous state.
I'm not implying poor ethical choices cause all misfortunes. I was talking about my own life. Plus, my good fortune is far from dependent upon my flawed, human efforts. My generous Gods have my back. But any of my problems not of my own making can be exacerbated by my poor choices.

I cannot speak for other people, but I am by nature a selfish stubborn person, who suffers from ego. I do not know if these propensities in me are greater than in anyone else, but they have caused me great suffering. I work hard doing everything I can to do away with these flaws, but, being human, will never reach that goal.
I recently hit a point where I felt I had to dedicate myself to my efforts to eradicate the aforementioned traits more than ever. More about that in a bit.
There are always opportunities for my selfishness and false ego to exert themselves. For example, it's easy for me to condemn someone hoarding supplies during the outbreak. My reaction to hoarders is pure ego. Instead of climbing up on my high horse by harshly judging someone, I want to remember we are all flawed, and we're all in a growth process, learning and growing, so there is no logic in judging.
It is easy to spot obvious immoralities, such as hoarding supplies during the pandemic. It is harder to spot subtler immoralities, such as condemning hoarders. Flaws can be sneaky, disguising themselves so that we don't see them in ourselves.
The overinflated ego of judging others hurts me. Grandiosity can make me feel I am above the need to look at my own failures. Time spent in outrage is time I need to look at my own errors that day, cook myself a good meal, and otherwise be good to me. Plus the time I spend judging others is time needed for being of use to community.

Judging others also closes heart and mind, not only to the those judged but to everything. I want my heart and mind open to the Goddess' guidance about ways I can support my community during the pandemic. I want to do everything I can as a shaman and human to help folks—myself included—stay on an even keel, stay whole, stay on top of things, and remain effective.
It's impossible to walk on air like a saint. However, my past experiences of major crisis taught me how to keep returning to an even keel, keep returning to practices that build wholeness, and thus stay on top of things and be effective.
For me, listening to my Gods and staying close to Them is a priority. It helps me stay centered and strong, so I'm able to take good care of myself and be of maximum service. And I need Their constant guidance to be effective. They give me ideas about everything from the logistics of executing a mundane chore that seems beyond my limited physical capabilities, to the creation of specific shamanic events that'd serve folks well right now.
Important aside: My upcoming three week event is one such event: https://stardrenched.com/2020/03/16/upcoming-event-3/

Crisis and trauma are crossroads at which I grow—even if I can only do so quite slowly—or go down big time. The chances for selfishness and false ego to emerge quadruple. So, given that the societal traumas of the past year have impacted me, I've dedicated myself more than ever to pursuing surrender, service, and egolessness.
As an example, here's one way the chances to stumble ethically increase: possibility of hardship can make one feel like one must do something wrong in order to survive. The expression It's just business embodies that attitude. It excuses ill behavior by positioning the choice for morality in the face of survival threats as a new and different quandary, specific to one's own situation, instead of as a core aspect of spiritual struggle since earliest human times. In fact, we might say that, in a way, (and only in a way), the dilemma of choosing one's spiritual ideals over survival might be the essence of morality (or an essence). This is not to suggest that one should not fight for survival. Survival can be the moral choice.
I hope the above paragraph or anything else in this essay doesn't sound preachy, judgmental, and black-and-white, as if 1) anything less than perfection makes you a complete failure, 2) we should shame ourselves for the least mistake, and 3) I alone know the correct steps in crisis, and thus am capable of making moral decisions for you. To the contrary, I believe that, under the pressure of crisis, people might need more than ever to be gentle with themselves and others: more than ever accept how imperfectly we act, more than ever esteem the littlest step we take toward our moral ideals, more than ever honor every act of kindness we make, and more than ever respect the need to take breaks from solving problems.
And I surely don't know what anyone other than myself needs to do.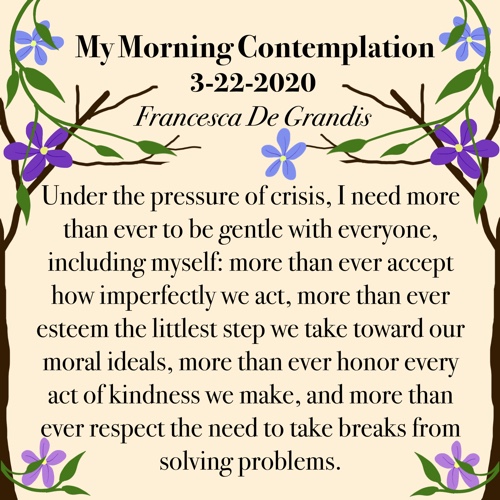 In any case, moving on: Many of us on spiritual paths can easily fall into focusing on spirituality as a tool only for personal gain. E.g., "If I meditate to be more serene, I'll be more levelheaded. Then I'll be able to earn a better living." Though I think using spiritual tools to enrich one's material life is healthy and important, and I teach that sort of application, it's not healthy for me if it's the whole picture. I need spirituality to also be a means by which I stay in shape to be of maximum service to the Gods and all Their children.
I have watched people who, when navigating hard times, cleaved to Spirit solely as a tool for their own sole betterment. It backfired, increasing their selfishness, false ego, and bitterness, and often causing them serious financial, romantic, and other problems. Some of those folks persisted endlessly along the same path, which turned them into horribly harmful people. It frightened me. I don't want to be like that.
And, as I said, if my spirit is not in reasonable shape, neither are my finances or anything else.
Moreover, when I forget spiritual tools were gifted me both for my own personal betterment and to keep myself in shape to be useful, I find myself on an emotionally distressed hamster-wheel, with thoughts like, "I've got to improve myself. If I don't, there's going to be a disaster. If I don't there's going to be a disaster. A disaster. A disaster."
Then, focusing on spiritual tools as a means to getting in shape to serve restores my balance, peace, common sense, joy in life, and trust that the Gods have my back.

I had three choices standing at the trivia. Going backwards didn't seem a choice because you can never return to the past. But I could stay where I was. Sometimes that's the moral stand. For example, I might need time to be with what I'm feeling, or to rest and gather the strength to move forward, or to choose which direction to take, or to plan my first steps along the road I choose. (Self-care is a virtue.) And sometimes I am just stuck. Moving forward is more than I can manage, and I can make a choice to accept that, and thereby surrender to life as it is, since I too, even when I'm stuck, am part of life.
My second option was the right hand pathway forward (I don't know why it was to the right). On it, I could move forward into once again deepening my commitment to serving, surrendering to my Gods, and letting go of false ego.
The left-hand path was also a path to greater surrender, usefulness, and egolessness, with one difference—compassion for myself.
I realized, looking with my otherworldly eyes, the right-hand path at my particular crossroads included constantly chastising myself for not changing fast enough and for not being "better."

That path also required I view each of my missteps, no matter how small, as proof that I'm a complete moral failure, and that my vigorous moral strivings are insincere. Forgetting that we all stumble a great deal, I'd live in fearful certainty that my smallest error would lead to moral, emotional, financial, or other disaster. The path also had me traveling along, all the while overlooking my improvements and all the good I do.
Whereas on the left path, I'd learn to walk toward my goals with compassion for myself. That self-care would consist of
* acknowledging that we grow bit by bit (with occasional, magnificent leaps and bounds)
* celebrating my progress
* being gentle with myself when I fall short
* admitting my errors without becoming fatalistic
* recognizing my dedication and the vigorousness of my efforts
* honoring my achievements—great and small
* seeing the good I do
* and enjoying the celebratory pleasure of being grateful to the Gods for giving me the ability to do the things in this list.

Two of many reasons I love my friend, Jenn Campus, is that she keeps surrendering to life and focusing on service. The day after the ritual, I happened to see an exquisitely worded Instagram post of hers (she had not been at my ritual): "We have yet to see the spring of this pandemic period. We are still in the brutal winter—wondering if our stores will see us through, wondering who will be standing with us on the other side of it…even if we will be one of the ones still standing. … In the words of Sophie Mainguy, a French ER Doctor: 'We are not at war and we do not have to be at war. … The firm ambition of a service to life is enough. There is no enemy. There is another organism living in full migratory flow and we must stop so that our respective currents do not collide too much. We are at the pedestrian crossing and the light is red for us.' "
Jenn's post is related to what we did at the ritual. I love my fellow seekers.
The doctor's eloquent statement about remaining quarantined to avoid the coronavirus has meaning on the mystical plane, as I am sure the good physician knows. For me, that layer speaks of abiding by life however it manifests, which for my own practice is the same as surrendering to my Gods.

Surrender to life is not about giving up or being a doormat. I will continue to stand up for my rights and the rights of others.
Surrender is not about forsaking all pleasure. Surrender helps me use the enormous amount of ethical magical and mundane power available to create the world I want, a world of joy, beauty, and abundance.
Surrender also helps me be of maximum service, whether I am providing shamanic services for my beloved clients, or dialoging with the vet as I try to understand her patient but nevertheless confusing dietary proposal for my ever sick kitty.
During the ritual yesterday, I felt Diana blessing the path I chose. I felt the power She gave me to do what I need as I begin along that path. I felt chills throughout my body from the starlight, moonlight, and sunlight with which Diana filled me.
I also knew Her amazing help that day wasn't enough. I'd need Her continual help as I walked that path. I have to constantly rely on my Gods. I don't remember the prayer I said about getting divine help along the road I'd chosen, but I wrote a comparable prayer. Here it is, should it be helpful to you:
Magna Mater, Great Mother of All, Bear Madonna,
and Our Good Father, Co-Creator of All,
Wild and kind horned Pater,
please give me the power and wisdom
needed on the path ahead,
each step today and in these coming months.
Help me affirm:
I have a healthy ego.
I release my false ego.
I acknowledge my limits.
I acknowledge my limitlessness.
I celebrate my inner and outer beauty.
I dedicate myself to joy, usefulness, and power. I give myself to My Divine Parents, that You may shape me and use me as You will. Your desires are also mine, deep within my cells, even if unknown to me for now. I can and do create the amazing loving, beautiful world I truly want. So mote it be.*
I will probably need to make that prayer a lot in the coming year.

The ritual described above was one of the free rites I lead once a month. I'd love it if you joined me in any of them. They and other upcoming events are announced in my newsletters. Subscribe for free here: https://outlawbunny.com/newsletter/
I love you, be safe.
* Attribution: I read spiritual literature of all kinds. As a shaman, I seek the core of reality, and it is found in disparate places. There's an Alcoholics Anonymous prayer in which are the words God, I offer myself to Thee—to build with me and to do with me as Thou wilt.
My prayer's words I give myself to My Divine Parents, that You may shape me and use me as You will are an adaptation of the Alcoholics Anonymous words I quoted. Their sentiments, for me personally, are vital to me, absolutely vital to my spiritual, psychic, physical, and financial well-being, and every other imaginable aspect of my well-being.