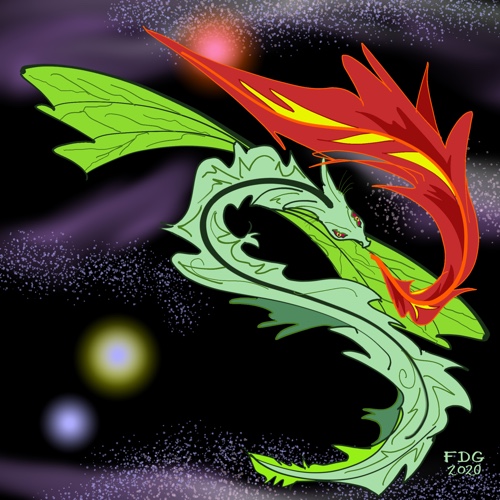 Upcoming Course:
Dragon Magic
Your job, your loved ones, and your everyday tasks can keep your plate full. Shamanic practices to create emotional and physical well-being can seem like a luxury for which you have neither time nor energy. But traditional shamanism is of the people. I teach a dragon magic that helps you with practical matters, while also taking care of you as a whole being and fitting into your busy life.
In my upcoming course, learn dragon magic for prosperity, protection, and more. Lessons also help you
* Heal your spirit.
* Increase inner power.
* Stand up for yourself and for others.
* Maintain spiritual stamina, so you can get up when you fall down and move on to victory.
* Find the courage to risk going after your ideal life.
* Acquire inner and outer abilities to actualize your dreams.
* Release blocks to success, e.g., self-victimization or scarcity mentality.
* Be your biggest, most authentic self.
Enroll here: https://outlawbunny.com/special-events-registration/

My dragon magic has a light, whimsical aspect that adds an ease to the lessons. Yet the fantastical element of my dragon teachings don't mean they're shallow or weak. Often, through a light touch, we'll become as dragons swimming through the watery depths of the primordial sea, claiming its creative powers as our own.

Dragon!
Ferocious. Wild. Primal. Protector.
Archetype of Goddess power.
Primordial enchantment.
Monster … gargoyle … dragon … serpent of the deep … source of all creation … Tao … Goddess Who creates all … witch … woman … wholeness … freedom.

Are you drawn to dragons? If you find yourself meditating on them, or dragon is your totem animal, or you don't identify with dragons but dragons in fantasy art and fiction delight you, or you seek the company of dragons, or otherwise consider dragons powerful, this is your group.
In this course, you enter a magical draconian realm even more fanciful than what's usually portrayed, yet far more substantive and deep than I've ever seen depicted outside my own visions.
The dragon is a such a powerful Goddess archetype and shamanic archetype that it has been maligned, misrepresented, and otherwise hidden so that we won't see dragons help bring us freedom, wholeness, and self-actualization.
Join me in this course about the hidden nature of both dragons and dragon magic. Learn spells that draw on the core of draconian magic. These rituals and teachings are given us right from the dragon's heart—I channeled bit by bit over decades. You will be with pure dragon energy, instead of slanderous or watered down misrepresentations.
This five-week journey has six(!) powerful aspects:

1) Five lessons, one per week, for five consecutive weeks. These lessons are via group phone calls. To participate, just dial your phone.
We will work in old-style oral tradition, which allows immense headway quickly. Enrollment is limited to 16 people, so we can perform ceremonies that can only happen in a small group, and so each participant can receive individualized attention, should they want that support.

2) Direct spiritual transmissions. These transmissions occur during each group meeting, throughout the entire meeting, no matter what else is occurring at the time. The transmissions deepen the rituals, make them safer, and foster a more experiential understanding of the lesson material.
The transmissions also enliven your very cells, so your magic wakes to its next level of power as do your mundane-world strengths. The transmissions also boost any efforts you make; our efforts combine. And those are only some of the benefits.
My transmissions' energy adapts to your needs, blessing your internal and external life.
I can't say what "direct spiritual transmission" means for other practitioners, so the benefits listed above are specific to transmission I myself provide. Also, in my particular case: I was born a good luck charm who automatically generates a beneficial field of energy. I don't do anything to you; I don't inject you with energy, rearrange your energy, or even dust off your aura, LOL. I simply give off a blessing energy during a transmission, the same way incense gives off specific magical energies in a room.
Me, personally, I cannot imagine oral tradition without direct spiritual transmissions. They seem to be part and parcel.

3) Three audio recordings, each with a dragon rite. After we perform these three rituals during our lessons together, the recordings lead you through the rites again to make their power and enchantment easily accessible again. (I don't record meetings. The audio recordings you receive will be made separately.)

4) Two digital Book of Shadows entries (PDFs), each with another of the rituals we'll perform during our class meetings. (During classes, you'll learn more rituals than the ones in the recordings and Book of Shadows entries. But these particular audio and PDF documents are especially useful.) The entries are ornamented by my full-color, original, shamanic art, for a total of seven gorgeous pages, with easy to read large print. The artwork intensifies the text's magic, adding further enchantment to it. I created artwork specifically for these pages.

5) An original piece of talismanic art to download and print to bless your home or your other spaces. Painted especially for this course, this draconian art not only serves you magically but is worthy of being displayed in an art lover's home. The digital file you receive will be high-quality, e.g., show detail very well.
The smaller rough-quality version at the top of this post gives a sense of the piece. I used a small rough-quality version here, so this webpage would load in a reasonable amount of time.

6) I'm available for one-on-one support by phone, should you need to privately discuss anything, or if something comes up for you during a class meeting that would take too long to discuss during the class.
No experience needed. But advanced practitioners should find this journey well worth their time.

We'll meet Sundays, 3:00 to 4:00 pm EST, for five consecutive weeks, starting March 1. Reserve Sunday April 5, same time, for a makeup meeting, in case I'm unexpectedly unavailable for one of the planned sessions.

Full cost is $250—for five classes, three audio recordings, direct spiritual transmissions, seven gorgeous, enchanted Book of Shadows pages, an original piece of shamanic art for display in your personal space, and one-on-one private support should you desire. Your carrier might charge you for the phone calls into the ceremonies.

Pay securely with PayPal: https://outlawbunny.com/special-events-registration/

Upon payment, your place is reserved. You receive course details—e.g., the phone number to dial to participate in the meetings—by email. No refunds. To discuss a payment plan, trade, scholarship, or semi-scholarship, or if you have other concerns about the event, call me.
I mentioned misrepresentation of dragons. I had a fun experience about dragons' true nature and the prevalence of dragons:
When debating whether to offer this event, I contemplated the fact that dragons are mostly represented as solitary creatures, hiding away moodily and bitterly.
That depiction makes no sense. For one thing, I come from a long line of dragons, and in my meditations, I fly in draconian form with my ancestors. Plus, for years now, when leading ritual, and I ask participants to name their totems, usually more than one person responds "Dragon." And we might fly together. How I cherish opportunities to fly alongside other dragons.
So there I was thinking about this and, lo, someone I am getting to know happens to mention they identify as a dragon.
Their remark happening right then was synchronicity, a sign that there are dragons around every corner. The universe was urging me to offer this course. It is not only a way to serve dragons and dragon lovers in my community, it also provides an opportunity for me to become even more communal in my dragon flights—flying alongside other dragons is precious to me. It is ecstasy and joy.
Come fly with me, you dragons and dragon lovers.
We'll soar in other realms while also creating better material lives for ourselves. My down-to-earth shamanism addresses real life. My style of dragon magic is grounded mysticism, a tried and true approach that has not only helped me achieve my dearest goals but also helped the individuals to whom I have taught it achieve the same.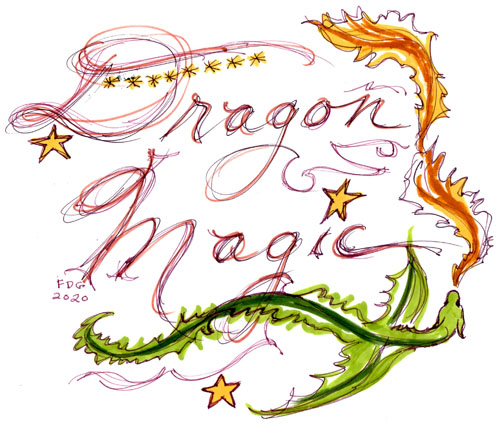 Enroll here: https://outlawbunny.com/special-events-registration/