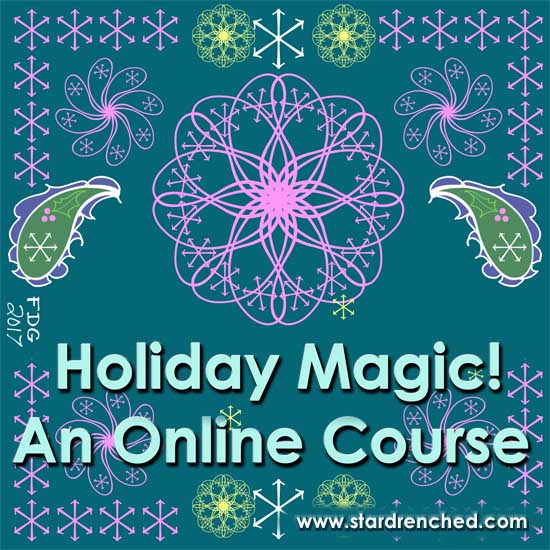 Enjoy the holidays, Pagan style. To make your season happy, abundant, safe, sacred, sane, and magical, this course has five powerful aspects. You receive:

One) Weekly lessons. Each lesson is a digital Book of Shadows entry (PDF), ornamented by my seasonal shamanic art, which makes the Book of Shadows a cherished tradition in the years ahead.
I boiled lessons down to their essence, so they tend to be easy and accessible. They include:
* simple quick spells, prayers, and affirmations, to nourish, energize, and inspire you during the holidays.
* fun holiday crafts and decorations, Pagan-style. Use common household items to make enchanted seasonal decor: charms for just about anything you might wish. Children enjoy these crafts. Also discover how typical American holiday decorations can be used in spellwork.
* Special rituals: experience the Winter Goddess' sacred realm. Center into wholeness and joy. Enjoy the season's spiritual beauty. Rites include a star-drenched Faerie Solstice celebration.
* Lots of material to choose from. Pick what you want to use this year and enjoy the rest for many years to come. The course includes powerful Fey-touched material I've not published till now.
Instead of your having to search online for fun or meaningful activities, I'll deliver them to you. Enjoy unique material not available elsewhere. (And this course is a way better use of computer time than social media overdosing or too much digital window-shopping.)

Two) Magical decor: eight digital full-color amulets—my original Pagan art—for harmony, success, and more. Print and cut out to hang on your Yule tree or elsewhere in your home. Four of the amulets' designs are suitable to display all four seasons, for yearlong blessings.

Three) Six audio recordings made especially for this course. Hearing spoken word can be enchanting, and a way you and I can be in sacred space together. So I recite excerpts of the weekly lessons. One recording will be part of the Yule ritual.

Four) I'm available by phone for up to 45 minutes. If you have questions about the material, need support because your commitment to doing the lessons falters, want to further explore a particularly tantalizing part of the curriculum, or have other concerns, feel free to phone.
You can divide the 45 minutes into two or three conversations. Conversations must occur during the span of the course or within a month after.

Five) Exclusive offer: I'm giving a five-day direct spiritual transmission during Solstice week. Cost for individuals not enrolled in this class is $100. You can receive the transmission for $40—less than half price. This Yule blessing heals inner blocks that sabotage your happiness, is a spiritually rejuvenation, and helps center you into what's truly important to you. These benefits can last for months, if not years.

November is a turning point in the Pagan calendar. The course starts November 3, with your first lesson. You receive one lesson a week by email for 11 weeks. That will bring us halfway into January.
Post-Solstice lessons provide spells for a great 2018. You also learn how to work with mystical energies that occur in the weeks immediately after Solstice. Years ago, I noticed those energies and spent goodly hours developing related shamanic modalities for significant self-empowerment. Most of the post-Solstice material has remained unpublished till now.
If an unexpected event makes me unable to send one week's planned material, I'll extend the course an extra week.
Tuition is $250. Scroll down to pay securely with PayPal:
Enter your phone number. In the drop down menu, you can choose to receive the Yule spiritual transmission.
No experience needed. But even advanced practitioners will enjoy this. If you need more info, or want to discuss scholarship, trade, or payment plan, call 814-337-2490. No refunds. My online courses aren't transcriptions of oral tradition lessons. I teach oral tradition by phone. The online courses are special unto themselves—magic tailored to be spectacularly useful, exciting, effective, and safe when learned online.