A mystic needn't be an academic to be a scholar. Why is this idea important? Some people create a magical, fulfilling life based in a non-academically-shaped worldview. We also might want to teach from such an orientation. Our cosmology can be as carefully constructed and extensively developed as any scientific understanding, but many would crush our power by insisting there is only one intelligent way to see, to learn, to study.
Trust your observances made through mystical states, e.g., trance. Trust your non-ordinary modes of perception, like intuition.
I'm not suggesting you blindly believe and act on everything you think you've observed. For example, when you have an intuition or receive guidance from spirits, run it by a down-to-earth person who exists on the mundane plane. Non-academic perspectives are as subject to fault as academic insights.
But, luckily, I did not wait until a university validated each step of the many I needed to travel along my shamanic path. I'd have taken fewer steps, losing great joy and fulfillment, not only in my personal life but also because I would have taught less.
Academic validation does happen to me lots, and it feels nice. But relying on it as a way to tell myself or anyone else, "See, I know what I am doing" would undermine my belief in my style of scholarship. An example: Pics of subatomic particle tracks validated what I'd seen in trance for decades. But I'd validated it for myself already. Hence the painting below: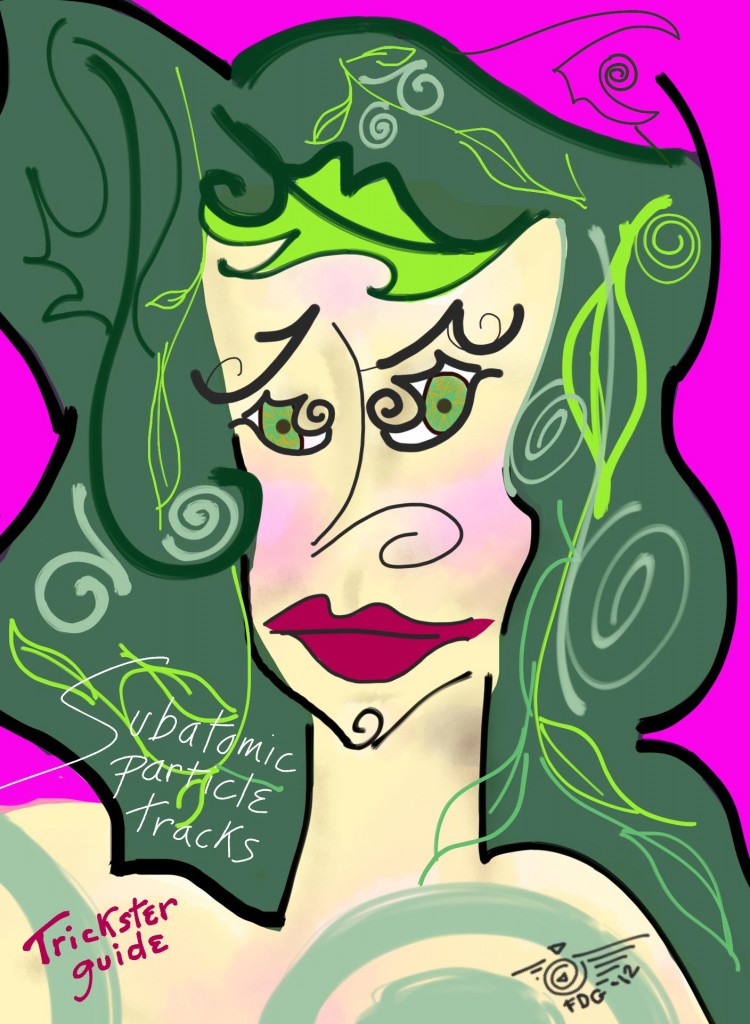 Training can be crucial. Just as a scientist studies his "craft," so have I. I also spent years in trance, 24-7, researching as diligently as any scientist in a lab.
I'm not suggesting you trust yourself only if you do the full-time training or research I did. Mine was needed because of goals I had as a teacher and mystic. Otherworldly reality is innate in us all. Just as many linear-minded non-scientists trust their personal worldview, so should many mystics observe and assess their environments, drawing our own conclusions, instead of docilely following "experts." I mention my full time commitment only to reinforce the extensive possibilities of mystical wisdom.
Insights I gain through altered states are building blocks of trainings I create. But I don't carelessly throw something together in the name of Divine inspiration. I spend years developing a curriculum before teaching it.
My fastidiousness does not naysay the observations of someone without training. The psychic realm is as much a part of human heritage as ordinary daylight; we all have insights about it; and they are important contributions to community dialog. In fact, one of my goals as a teacher is to create tools that help people trust their insights and recover their innate mystical awareness, which has often been squelched.
Being a mystic does not deny your intellect. (And too many beautiful, astute, linear minds are used to invalidate somebody's heartfelt, lyrical worldview.) I know amazingly left-right-brain integrated mystics.
It's like being a musician. In my last year of college, I supposedly needed more units of logic-based classes to get my degree. But the college president felt that my thirty hours of music theory, which is mathematically based, obviated the need for further logic classes.
When I write a song, channel liturgy, or travel faerie realms for info, my intellect needn't suppress my efforts. It can weave in and out of my emotive fanciful state, improving my effort. I also might go over what I have created to rewrite, rewrite, rewrite, until I'm satisfied.
In various mystical states, there's a dance between the two sides of the brain and the heart and soul. Each aspect of you comes forward, adding what it can. All of you weaves constantly, in such rapid-fire succession of ever-changing intertwinings that you might be totally unaware of this complex inner interaction.
At such times, we learn truths that others may deny. We plug into immense powers to control our own destiny. We become part of miracle. Even other pagans may try to invalidate these gains, Goddess bless them, instead of realizing that their approaches and ours can be different without either of us being wrong.
But the things we learn in such states set us free.
This has been a limited view on mystical scholarship. But the crux is: Let yourself be free.