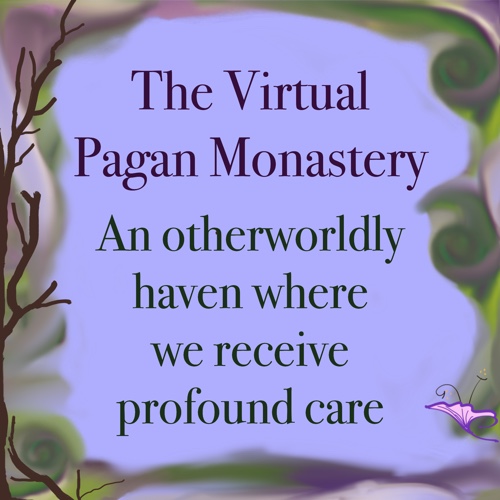 Walk between the stars with me.
We'll find a moment's peace,
our spirits held secure by Gods
Who also cradle everything.
Then we'll return to earth,
our hearts and strength renewed.
We'll have the means to serve life well
and stay the course that day.
And when earth's weight bears down on us,
we'll walk the stars again.
And, once more, gain the help we need
to meet the hours ahead.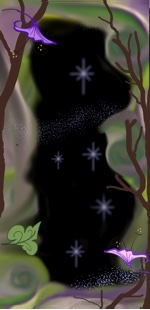 I hope my above poem conveys, to at least some small degree, the power gained when visiting the Virtual Pagan Monastery.
You might think of it as a Goddess temple, Druid grove, Faerie circle, Pagan monastery, or retreat to an otherworldly haven. It has been sanctuary, even in the hardest times.
If you're unfamiliar with this long-distance experience:
Twice a week, I lead fifteen-minute-long ceremonies via group telephone calls. This continues for six weeks—ongoing spiritual sustenance that fits into a busy day.
During every ritual, I also give a direct spiritual transmission. You receive profound care, so are better able to meet the hours ahead and live fully.
To define my particular transmissions: I was born generating a beneficial field of energy. During our meetings, it adapts to your needs, e.g., personal growth, a soul healing, physical health, joy for your wild heart, safety on the mundane and etheric planes, the spiritual strength to get back up after life's knocked you down. The transmissions do not focus on one benefit only, but bless you as a whole being. They also add luck to anything you do to improve your life.
The Virtual Pagan Monastery group meets twice a week for six weeks, starting May 12:
We'll meet from 3:15 to 3:30, EST, on Tuesdays and Fridays.
To participate, simply dial the phone.
You'll need about three minutes after each session to do a special grounding, which I'll teach.
Reserve Tuesday June 23 and Friday June 26, the usual time, for makeup sessions in case I'm unavailable for planned sessions.
Total enrollment fee: $250. Your carrier might charge you for the call.
Click the Pay Now button to enroll securely through PayPal:

Limited enrollment. Upon receipt of payment, your seat is reserved. You receive event phone number, etc., by email. Refunds unavailable. Call me for more info or to discuss scholarship, trade, or payment plan.

Explaining this event is hard because many people think Paganism lacks inward, contemplative aspects or inner adventures. For my outward efforts to be effective, powerful, and loving, I need the inner life.
My inner life is also a precious, exciting joy that fuels the passion for life in my more outward experiences. Please give yourself contemplative times and inner adventures. Visit the Virtual Pagan Monastery.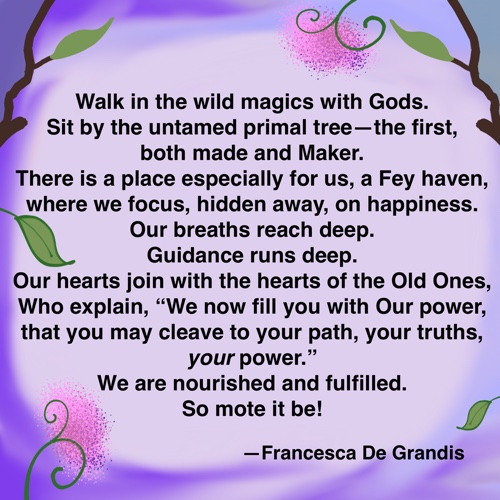 We all make choices about what's best for us and what helps us best serve others. For most folks, that excludes a huge amount of time in ritual. (Actually, I believe anything we do is ritual, but I need to define ritual in the more usual way here.) My choice was an ongoing enormous amount of rituals, which required a solitary life, since I couldn't found an in-person Pagan monastery. A description of my day is relevant to this event: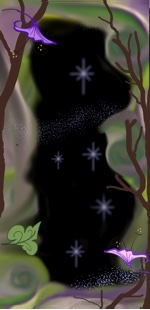 I rarely see anyone in person. My contacts are mostly between the stars, doing ritual with folks. Otherworldly time spent with students and other wonderful friends is an enormous nourishment and joy that feeds me like few things ever could, given my particular personality and spirit.
So much time alone allows me to, among other things, do devotional practices and channel shamanic rites I lead.
New terms are needed to depict spirituality that is liberating instead of oppressive. For example, devotional or contemplative activities needn't be dour, overly formal, or anti-sex. So I made up the term ecstatic contemplative to describe folks like me. I also coined Pagan monasticism to hopefully expand the sense of the possible lifestyles.
Since few people have the time that I do for ritual, I had the idea of a virtual Pagan monastery providing mini-retreats for you. You needn't be a monastic, or want to become one. Take advantage of my decades as a Pagan monastic; I'll draw on my daily experiences to create fifteen-minute rituals for you.
Many folks have "inner monasteries"—places they visit and practices they have—to nourish themselves, ensure they cleave to their paths and their truths, and engage with the Divine. But a lot of these individuals tell me lack of time keeps them from going inward often enough, let alone coming up with a ritual for themselves on top of that. Each Pagan Monastery meeting has a ritual all prepared for you, I lead you through it, and the weekly schedule is easy.
You needn't go it alone.

I usually only "open" the virtual monastery for visits in the early months of the year, but I feel it's important right now. For one thing, some of us need our spirituality more than ever, and need empowerment more than ever, but it can be hard—if not near impossible—to spiritually tend to oneself at the present time, and the virtual monastery is a quick way to do it.
In ancient shamanic culture, sacred group meetings were part of the everyday, even during major upheaval. Tribes were normally busy taking care of business—hunting, weaving, etc., and all the more so during crisis. They didn't try to shoulder on without group rites. The ones I'll lead in the Virtual Pagan Monastery are heavy duty ceremonies.

This magic is so strong that fifteen minutes of it improves your life. For example, some of these brief rituals can, all on their own, land you smack dab in the reality of you, your truest self with its wisdom, balance, and magic. When you don't arrive in the center of your personal essence during one of those rites, you likely move radically in that direction, so you stop holding your breath, exhale with enormous relief, and feel longed for peace. Plus the rites we'll do add up to the substantial claiming or reclaiming of selfhood.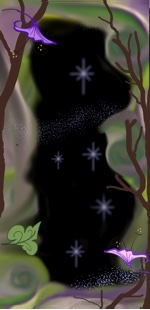 You emerge from each brief session prepared to make life more serene, fulfilling, and abundant. You're more able to do whatever's needed to achieve your goals and stay centered while you're at it. This is support to be powerful.
Feedback: "Someone might think, 'I won't get much from 15 minutes.' … But Francesca's Pagan Monastery showed me how deep a 15-minute ritual can go. She knows how to do this."
If you're skeptical about these visits accomplishing what I say they can, and you suspect 15 minutes isn't worth your time or money, you're smart. The world is full of "spiritual" con-artists.
My claims aren't hype. Few people can do what I do. If one of my services or books accomplished something nothing else had for you, that starts to give you the real picture.
Add that I trained from childhood as a shaman. Then, for decades, I've dedicated my life to developing shamanic skills and innovative ritual methodologies and to becoming a guide capable of addressing a lot of different life arenas.
So when I announce I excel at facilitating shamanic experiences and making fifteen minutes relevant and extraordinary, I'm talking truth. But don't take my word. Trust what your gut tells you. It might say that, in fact, my methods have led to miracles.

All the rituals I perform combine to create my wholeness. Nevertheless, whatever I did ritually yesterday doesn't fully cover what I require today. Over and over, I need to regain emotional balance, center into the reality of a caring Goddess, and experience spiritual renewal. This is even more true for me right now.
Consistent ritual is even more vital during difficult times. During crisis, enrolling in this event might be one of the most important steps you take. For one thing, it'll help bring the most powerful you forward to face challenges and accomplish exactly what's needed.
If you need to miss some sessions, enroll. Perfect attendance isn't part of real life.
Please visit me in the Virtual Pagan Monastery. It is a beautiful place.